Sanchez Dub Juggles and Jives
His projects include jazz trios and trip-hop groups. He has toured as a bassist for Mexican Institute of Sound and Digi & Gabo. He is a co-founder of Titán, one of Mexico's pioneering electronic punk groups. His scores and songs routinely appear in jingles, films and documentaries.
Andrés Sanchez is a busy guy.
His latest incarnation promises more reinvention and restless creativity. Under the alias Sanchez Dub and the Candy Corp, he has formed an electro-funk collective whose new album, Apocalyptic Girl Boy, drops in July. What originally started as a dub, drum and bass solo project almost a decade ago has morphed into an electronic funk ensemble, which, these days, occupies most of Sanchez´s time and energy.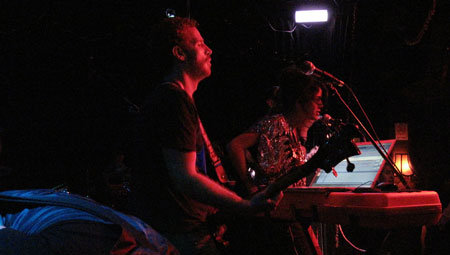 Sanchez Dub and the Candy Corp perform.
"I went back to my funk roots," he says. "Currently, Sanchez Dub is electro-funk, trip-hop, with a lot of drums and live recordings. It's a hybrid. It's going to be a slow process for people to digest it."
Andrés Sanchez grew up in the Coyoacán neighborhood of Mexico City, and studied composition and jazz in Mexico and New York. His influences thus range from Charles Mingus and Carl Tjader, to Prince, Talking Heads, Cabarette Voltaire, soul music, acid jazz and minimal.
A darling of the music, visual arts and fashion scenes in Mexico, Sanchez has called on some of his friends and artists he admires to collaborate with Sanchez Dub and the Candy Corp. Guest artists have included Ana Karla (vocals), Zoe´s Jesús Baez (synths), Café Tacvba´s Luis Ledezma (drums) and British producer Phil Vinall (Placebo, Elastica, Zoe).
"I'm really [proud] of having produced everything myself," says Sanchez. "I like being surrounded by people, to ping-pong ideas. I need that feedback."
He is also taking an unorthodox approach to the album release: Madame Records, a new indie label in Mexico, will release the project on limited edition vinyl, as well as a series of remixes of most of the tracks, in tandem with the release of the full album.
As for the name of the album, Apocalyptic Girl Boy reflects the yin-yang of human beings. "We all have a child inside of us, we all have man and woman and a mischievous side," says the boy with a thousand talents.