Rock 'n' Roll Pioneer Bo Diddley Dies at 79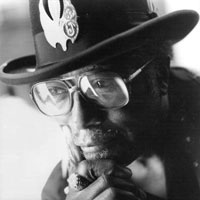 Venerable rock 'n' roll music architect Bo Diddley died Monday. He was 79 years-old.
Born Otha Ellas Bates on December 30, 1928, in McComb, Mississippi, to a 15 or 16 year-old mother, Mr. Diddley was raised by a cousin, Gussie McDaniel. While still a young child, he and his family moved to Chicago, and he officially adopted the surname McDaniel.
In Chicago, Mr. Diddley discovered other delta transplants including Muddy Waters and John Lee Hooker, whom he grew to idolize. His stepsister Lucille gave him a guitar for Christmas in 1940, when he was almost 12 years-old.
As a young man in the early 1950s, he assumed the stage name Bo Diddley, and he proceeded to record more than two dozen albums for the legendary Chess label family. His signature rhythm - often described as "shave and a haircut, two bits" - innovatively bridged deep blues and rhythm and blues, laying the quintessential groundwork for bourgeoning rock 'n' roll. The new sound's eventual icons including the Rolling Stones, the Beatles and Elvis Presley emulated, borrowed from and openly worshipped Diddley's music.
When the Beatles first fielded questions from the media on American soil in 1964, John Lennon proclaimed he was most excited about seeing Bo Diddley in the flesh.
His masterful songs including "Hey, Bo Diddley," "I'm a Man," "Love is Strange," "Bo Diddley (My Story)" and "Before You Accuse Me" traversed raw love, pain and life with singular wit and candor.
In addition to his trendsetting as a songwriter and percussional guitar stylist, Mr. Diddley's incomparable contributions include innovative, homemade amplifiers, experimentation with guitar tone and influential staccato vocal delivery. His enthralling live performances are also legendary.
On June 6, Congress passed a resolution honoring the legendary rock 'n' roll star, "Saluting the life and music of the late Otha Ellas 'Bo Diddley' Bates, guitar virtuoso and rock and roll pioneer, whose music continues to influence generations of musicians."
A longtime BMI songwriter, Bo Diddley has been the recipient of two BMI R&B Awards, a Pop Award and two Million-Air citations. He was named a BMI Icon in May 2002.