Richard Engquist, Lyricist, Leader of BMI-Lehman Engel Musical Theatre Workshop, Dies at 76
Richard Engquist, who led the BMI-Lehman Engel Musical Theatre Workshop for over 30 years, died on March 18. He was part of the transitional team composed of Alan Menken, Maury Yeston, Ed Kleban, Skip Kennon and David Spencer, who assured that the Workshop would continue to flourish after the death of Lehman Engel in 1982.
Engquist joined the Workshop when he was nearly 40. Engquist remembered, "Once I was an accepted as a member of the Workshop, I discovered that I could write lyrics. Fortunately, Lehman Engel liked me and encouraged me. Eventually I started writing shows."
His first show in New York was Elizabeth and Essex, with music by Workshop alumnus Doug Katsaros (Grammy Award-winning Broadway composer and musical director) and a book by Michael Stewart and Mark Bramble (42nd Street). "That experience was fascinating," said Engquist. "I learned so much from Michael Stewart, who was a consummate professional but not an easy person. But on balance, I finally came to like him and love him." Katsaros and Engquist wrote many other musicals, including the touring Dennis the Menace and Abie's Island Rose for Jewish Repertory Company and the Hollywood Playhouse.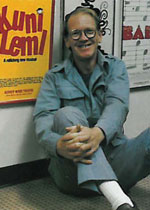 Engquist first became connected with the Jewish Rep when he wrote Kuni-Leml with composer Raphael Crystal and librettist Norma Sandow. Jewish Rep was the first home for Kuni Leml before its transfer to off-Broadway for a run of 298 performances. In addition to winning four Outer Critics Circle Awards, the show was cited (and published) as one of the ten best plays of the 1984-85 season. His other shows for Jewish Repertory included My Heart is in the East and The Cincinnati Saint.
He also teamed with Tony- and Grammy-winning composer Judd Woldin on the musical Little Ham, produced by AMAS and Eric Krebs off-Broadway. The team collaborated again to write Lorenzo, a biographical musical based on the life of Lorenzo daPonte, librettist for Mozart, most recently produced by Eric Krebs for the New York Musical Theatre Festival.
When asked about teaching in the BMI Workshop, Engquist said, "One has to look for the dreamers, look for talent and encourage and nurture. Out of 500 people with talent, only a handful may end up with careers writing for the theatre, because talent isn't everything. Sometimes it's being in the right place at the right time, having the right show, having the right collaborator. But others may come through the workshop and work as conductors, coaches, arrangers or [prose] writers or journalists."
Jean Banks, Senior Director of Musical Theatre for BMI, spoke about Engquist's legacy. "Richard's contribution to the Workshop is immeasurable. He was not only a champion of new writers for the musical theatre, but had the insight to direct Workshop members to other facets of live theatre, creating a new generation of producers as well as critics, columnists and authors who could apply their new-found knowledge about the musical theatre to the theatrical community, not only in New York, but nationwide."
Engquist said of his experience teaching with the Workshop, "I have an enormous storehouse of theatrical information and experience. I've come to a point in my career and life where I'm happy to pass on to others what I have acquired and that's what gives me joy. What a privilege — to work with and encourage musical theatre writers! The talent pool is enormous, and since BMI is unique in offering craft and continuity, I'm delighted to be a part of the process. If my lifetime as a performer, writer, editor, teacher and student of the musical theatre can be of value, what more can I want?"
He is survived by his wife of 44 years, author and The New York Times personal health columnist Jane Brody, who recently wrote movingly in The Times about his final days. He is also survived by twin sons Erik and Lorin, four grandchildren and a sister, Muriel Cashin.