Premiere SPONY Event Plays to a Packed House
SPONY (Songwriter's Pitch-a-Thon of New York) held its premiere pitch-a-thon on Thursday, April 5, hosted by BMI. Joy Novie, SPONY's founder and executive director, said "The participants were exactly who I had hoped to see: serious, professional, and talented songwriters. In fact, 17 songs were kept by one or more of our panel of judges for another listen!"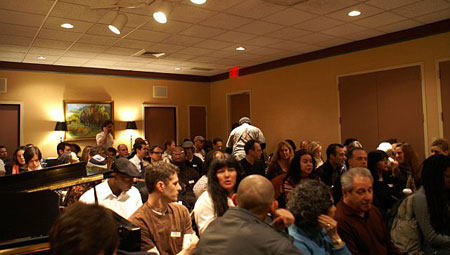 A packed house listens attentively as panelists comment on submissions.
The panel included Barbara Jordan, an independent music supervisor who has placed songs in such TV and film productions such as The Sopranos, CSI, and Borat; Brooke Primont, Senior Director of Film & TV Music for Cherry Lane Music Group; and Logan Waters, talent scout and producer from Virgin Records.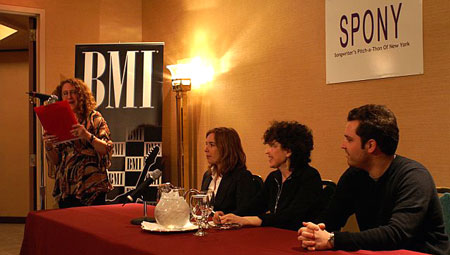 SPONY founder and executive director Joy Novie introduces panelists Brooke Primont, Barbara Jordan and Logan Waters.
The next pitch-a-thon, scheduled for Thursday, May 3, will again be hosted by BMI at 320 W. 57th Street. The judge's panel will include Andy Gundell, an Emmy-winning music supervisor, and Alex Shenitsky from Island Records. A third judge will be announced. "My idea is to have at least one music supervisor on each panel, and then a representative from publishing and/or a&r," Novie says.
Future plans include genre-specific pitch-a-thons focusing on hip-hop/urban, country, and the growing field of children's music,
For more information you can log onto the SPONY website at sponyonline.com.
Photos: Kim McLeveighn