Pop Songwriting's 'Leader of the Pack' Ellie Greenwich Dies
Ellie Greenwich, the pen behind several of pop music's most enduring standards, died on Wednesday in New York City. She was 68.
A veteran of the legendary Brill Building in Manhattan, Greenwich co-wrote 60s nuggets including "Da Doo Ron Ron," "Baby I Love You," "Hanky Panky," "Then He Kissed Me," "Chapel of Love," "Be My Baby," "Today I Met the Boy I'm Gonna Marry," "Do Wah Diddy Diddy" and "Leader of the Pack." Her main collaborators included Phil Spector and Jeff Barry, the latter of whom she married but later divorced.
Greenwich also excelled as an arranger and producer. She is generally credited with discovering Neil Diamond, and she produced his early hits including "Cherry, Cherry" and "Kentucky Woman."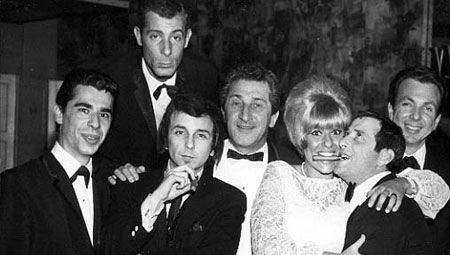 Pictured at the 1964 BMI Pop Awards are (front row) Artie Ripp, Phil Spector, Ellie Greenwich and Jerry Leiber; (back row) Jeff Barry, Paul Case and Ed Silvers.
She boasts numerous BMI Pop, R&B and Country Awards, in addition to 8 BMI Million-Air compositions, including "Be My Baby," "Chapel of Love," "Da Doo Ron Ron" and "Hanky Panky," which have all generated more than 3 million performances each, and "Do Wah Diddy Diddy," which has amassed an impressive 5 million performances.
Musician/composer Paul Shaffer (left) inducts Ellie Greenwich (center) and Jeff Barry (right) into the Songwriters Hall of Fame in 1991. (Courtesy Songwriters Hall of Fame, Sam Teicher Archive)
The Songwriters Hall of Fame inducted Greenwich in 1991. In mourning her passing, the Hall of Fame called her death "a major loss," recognizing Greenwich as one of "the most successful and prolific of the Brill Building songwriters."
To read the Hall of Fame's comprehensive obituary for Ellie Greenwich, click here.