'Pick of the Month' Showcase Kicks Off 2007 With Four Must-Know Acts
The freshest acts of the New Year gathered recently as part of BMI's kick-off to its "Pick of the Month" showcase. The Los Angeles Writer/Publisher team was on hand to celebrate the first edition of 2007, which featured the music of must-know acts Peter Walker, Minipop, We Are Lions and Sidestory. The all-ages concert took place Tuesday, Jan. 9 at the Troubadour in West Hollywood.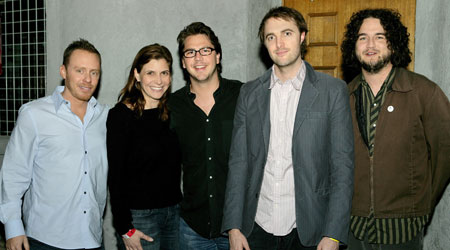 Pictured after the show are BMI's Myles Lewis, Tracie Verlinde and Joe Maggini, performer Peter Walker and drummer Chris Reynolds 
Singer/songwriter Peter Walker follows on the success of his Landed album with a nice alternative pop rocker in Young Gravity. A mish-mash of Pete Yorn's melodies, Eel's vocals and Sean Lennon's sensibility, Young Gravity (Dangerbird Records) is a great pop album riff with hooks and catchy lyrics. For his new batch of tunes, Walker hit the studio with Jim Fairchild (Grandaddy) and Aaron Espinoza (Earlimart) to record a collection of songs that have a real lived-in charm and exquisite songcraft. His throaty vocals add an element of honesty to themes of love and despair. While his material has much lyrical depth, he packages them up in great pop-rock arrangements. Fans of Neil Young, the Jayhawks and Wilco should keep Walker on their radar.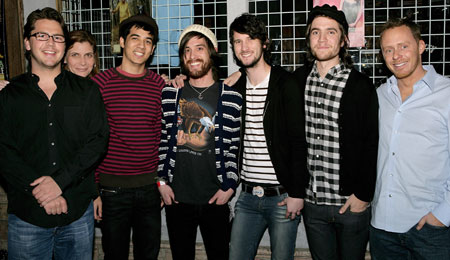 BMI's Joe Maggini and Tracie Verlinde, We Are Lions members Reza, Q, Matt and Atom, and BMI's Myles Lewis  
An easy comparison for the co-ed San Francisco five-piece called Minipop would be to Texas siblings Eisley. With their lush textures and graceful harmonies, the two bands share more than a passing sonic resemblance. Their five-song EP, The Precious, shows that while Minipop can sound as sweet and endearing as sprites, they are also not afraid of a mighty racket. With an evocative songstress like Tricia Kanne and a melody described best as "marshmallows on morphine," it is only a matter of time before this band's brilliance is discovered. They are very poppy; their sound is anything but mini.
Atom Whitman, Matt Matawaran, Reza Rasoli and Matt Quarnstrom (a.k.a. "Q") formed We Are Lions sometime around 2001, but they got their official name upon watching the 2004 "epic" film Troy. The pop-rock quartet recently released their debut record Eight Arms Made This on the new indie upstart At One Records. Their influences range from U2 and the Smiths, to current favorites like French Kicks and Brand New. But make no mistake, their sound is all their own, and is, in their own words, "Not quite emo, not quite post-punk, not synth-pop."
Los Angeles-based Sidestory began as a few scattered writing sessions on the campus of UCLA in January 2006. Only a year later, the band has excellently crafted their unique sound - think Keane meets Maroon 5 - and live performances into a fiery act that has attracted the interest of both major and indie labels alike. The rock outfit is on the fast track so check out the tunes "Better Than" and "So Much More."