Nashville in Nassau: BMI Songwriters Play the Bahamas
Another successful Nassau Songwriters' Festival soothed busy, creative minds and perhaps even planted the seeds for future No. 1 hits as BMI sponsored the festival in the Bahamas for the third consecutive year.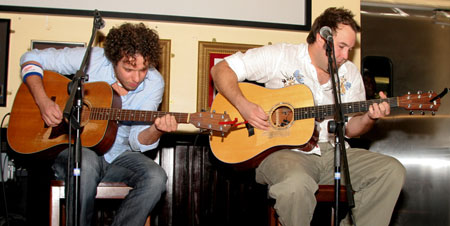 Chad Warrix (left) and D-Tox (right) of Halfway to Hazard perform a spirited set that showcased the duo's winning chemistry.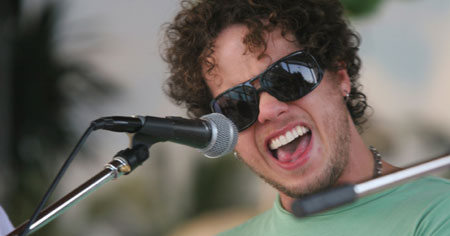 Chad Warrix of Halfway to Hazard belts out one of the duo's tunes. Halfway to Hazard are currently recording their debut album for Mercury.
2006 BMI Songwriter of the Year Vicky McGehee ("All Jacked Up"), singer-songwriter Sherrié Austin ("Lucky in Love"), Curb recording artist Lee Brice, up-and-coming artist Mitzi Dawn, MCA recording artist and songwriter Randy Houser ("Honky Tonk Badonkadonk"), hit songwriter Tim James ("My List"), r&b producer and songwriter Ben Margulies (Mariah Carey's "Someday"), hit songwriters Kendell Marvel ("Right Where I Need to Be") and James Slater ("In My Daughter's Eyes"), singer-songwriter Kylie Sackley ("Nothin' Bout Love Makes Sense"), songwriter and producer Keith Stegall ( "Dallas"), and Mercury recording artists and songwriting team D-Tox and Chad Warrix were thrown together for three nights of shows, camaraderie and re-charging.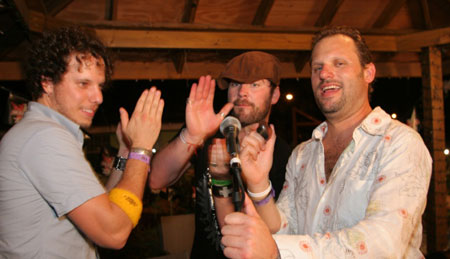 Chad Warrix, Lee Brice and Ben Margulies don't need drums.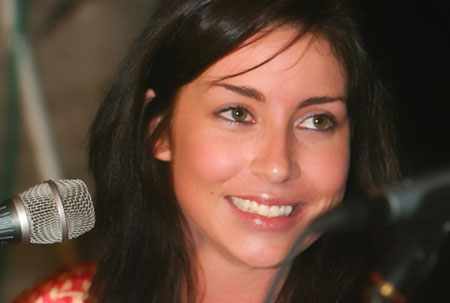 Kylie Sackley is all smiles as she performs an acoustic set with Lee Brice.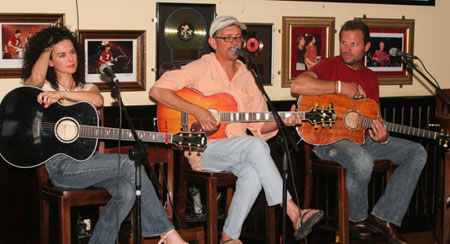 Veteran hit songwriter and longtime Alan Jackson producer Keith Stegall (middle) wows the audience and his fellow performers Sherrié Austin (left) and Ben Margulies (right).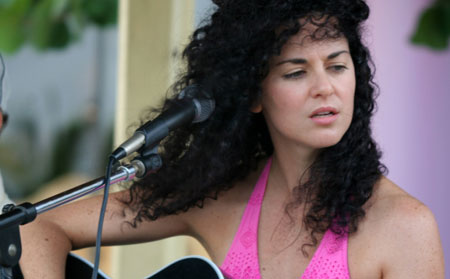 Sherrié Austin performed soon after the group arrived in Nassau.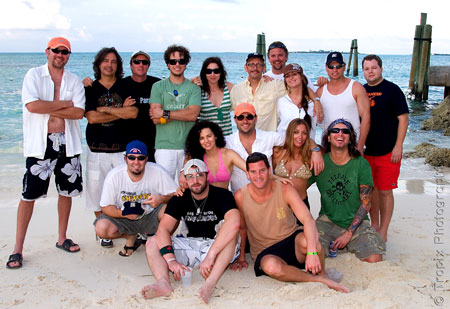 The whole group gets together for a shot. Pictured are (l to r): First Row: Curb recording artist Lee Brice with BMI's Mark Mason; Second Row: one half of duo Halfway to Hazard D-Tox, singer-songwriter Sherrié Austin, r&b producer & hit songwriter Ben Margulies, BMI's Mary Loving, and RPM Management's Ryan Cook; Third Row: hit songwriters Kendell Marvel and James Slater, Travis Television's Greg Travis, Halfway to Hazard member Chad Warrix, hit songwriter Kylie Sackley, hit songwriter and producer Keith Stegall, GAC's Storme Warren, songwriters Mitzi Dawn and Tim James, and BMI's Bradley Collins.  
Photos by Jonathan Sims