Musicians Corner Launches in Centennial Park
A new Nashville destination, dubbed Musicians Corner, will showcase and celebrate Music City's ties that bind. Ensconced in the West End Avenue corner of Centennial Park, Musicians Corner provides the ideal epicenter for a multi-cultural musical hive. The location will be inaugurated with a series of free Saturday afternoon lawn parties, starting July 10 and continuing every Saturday from 3 to 6 p.m. through October 16.  A pastiche of musical performances featuring locally based favorites, original voices, and surprise guests will be augmented by lifestyle, food, and artisan vendors to create a community gathering space in Nashville's Centennial Park.
Every Saturday promises to be a unique event, with last-minute additions and unannounced thrills resulting in spontaneous lineups and rock-steady quality. Sam & Ruby, Griffin House, Mikky Ekko, Damien Horne, Roman Candle, Courtney Jaye, Tequila Flamenco Group, The Dynamites featuring Charles Walker, and Pico vs. Island Trees are a few of the already confirmed guests for Musicians Corner dates, with more red-letter names and details to be announced soon.
"Our desire is to build bridges within our community by providing exceptional music of all forms in a place for people of all ages, ethnicities and backgrounds to celebrate the undeniable talent that our city has to offer," says Kristen Dabbs, Musicians Corner, Executive Director.
Nashville has long been recognized as a mecca for nimble pickers, sharp-eyed storytellers and big-voiced dreamers, but many will attest that it isn't just the talent and vision of Music City artists that makes the town so unique—it's Nashville's sense of community.
"The idea here is to look back 50, even 100 years from now, and see that Musicians Corner became a legendary Nashville landmark," says BMI's Jody Williams. "Diverse, organic, and historic – an institution that is as local as it is global, and a touchstone for the lovers and makers of music."
Musicians Corner aspires to be a central point, free and open to all, where Music City will gather to perform and enjoy its music. Inspired by "Speakers Corner" in London and Nashville's hunger for free outdoor summer music programming, the series promises to be entertaining, challenging, and compelling, as each week unannounced performers, impromptu collaborations and audience contributions illustrate the diversity, passion, and fellowship of Music City.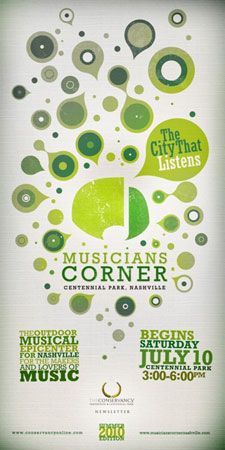 "Musicians Corner is destined to become one of Nashville's favorite entertainment sites," says Karl Dean, Mayor of Nashville. "This free weekly entertainment at one of our most beautiful parks will provide a great showcase for the musicians and creative talent that live in Nashville."
Musicians, singers and songwriters interested in performing in Musicians Corner: The Musicians Corner team is listening. Artists are encouraged to submit two songs and a brief explanation why they want a slot on the Musicians Corner Stage.
About Musicians Corner
Centennial Park, Nashville's signature greenspace, is the newly designated free outdoor musical epicenter which casts a wide net over the city's increasingly diverse pool of talent. Situated in the park's southwest corner facing West End Avenue, the naturally sloping amphitheatre boasts the park's true-to-life replica of the Parthenon as its atmospheric backdrop. Slated for every Saturday from 3-6 p.m., each installment features a multicultural slice of world-class singers, songwriters and musicians—a definitive and often delightfully surprising celebration of Music City's artistic melting pot. Musicians Corner is sponsored by Fifth Third Bank, BMI, American Songspace, Metro Parks, and The Conservancy for the Parthenon & Centennial Park.
musicianscornernashville.com