Music for Democracy Event Features Icons Crosby & Nash
New York City-based organization Music for Democracy (MFD) staged a fundraiser at St. Raphael's Cathedral Sunday, October 12 in Manhattan. BMI's Charlie Feldman attended the gala, which featured a live performance by BMI Icons David Crosby and Graham Nash, along with calls to action from several guest speakers who delved into the hotbed of contemporary issues.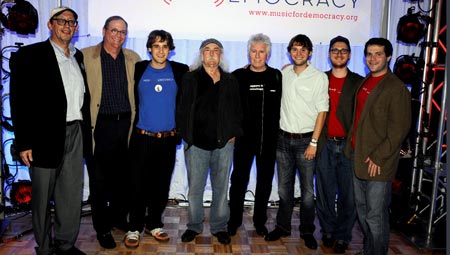 Pictured are (l-r): Air America's David Bender, BMI's Charlie Feldman, MFD National Director Bear Kittay, David Crosby, Graham Nash, MFD Communications Director Chris Foster, MFD Executive Director Mitch Manzella, and MFD Policy Director Aaron Agulnek.
About Music for Democracy Music for Democracy is a grassroots organization of musicians, industry professionals, politicians, and music fans united by the conviction that America needs a new kind of politics to move forward toward a more peaceful, economically robust, and environmentally sustainable future. Our goal is to support candidates for federal office and facilitate public awareness campaigns that advance the agenda of progressive musicians, their fans, and the music community at large. MFD connects both well-known politicians, musicians and young upstart bands with a nationwide network of peers and fans who are passionately engaged in the electoral process. www.musicfordemocracy.org