Movement & Progression: A Conversation With Le Youth
Wes James, better known as Le Youth, sits down with BMI to discuss details about how he's handling quarantine and crafting his new sound. Le Youth mentions dropping new music, his label and event brand, PRGRSSN Records, and what he's looking forward to next. BMI is excited to have him as this edition's Spotlight Interview. Read on for more.
Thanks for taking the time to chat with us! We've been in quarantine for quite some time now, how have you been handling it? Any new hobbies you've taken up?
I think as far as writing and artistic pursuits, I'm handling quarantine really well. Being locked in the studio has its benefits. Emotionally, the quarantine has been more difficult. It's beginning to take its toll on my mental health, I'm afraid. I'm ready to return to my previous life.
As far as new hobbies, I've really taken to film photography.
I think we're all ready to get back to "normal," whatever that means. You've been really busy crafting a new sound that gets away from your previous work, which was heavily influenced by 90's R&B. What made you want to take your music in a new direction? Was it a conscious decision, or a product of experimentation?
It was both a conscious decision and a product of experimentation. I think it was one of the best decisions I've ever made.
I did this live Q&A recently where a fan asked "Why did you stop making the 90's R&B stuff? That was my favorite." I'm embarrassed to say, but I was sort of offended. My response was something like "are you still doing what you were doing six years ago? Probably not." What I meant by that was, they've probably graduated, changed professions, moved across the country, started a family, etc. Over the last six years they've probably changed so much. Why am I expected to be doing the same thing? That's not art.
On that same note, we imagine it can be a little nerve-racking as an established artist to release music that deviates from the sound you are known for. Any advice to other artists who may be sitting on some great music, but are hesitant to release it?
I wouldn't say it was nerve-racking. It was actually an amazing feeling. I think the current music industry allows for people to be way more experimental than previously. Fifteen years ago, if you put out a record that deviated from the sound you were known for, people might get really turned off. Now, with the streaming and subscription model like Apple Music or Spotify, if a fan doesn't like something I put out, they can just skip it. People are way more forgiving in that way.
If you're scared or hesitant to release your music because of the way people will respond, I would suggest a different life path.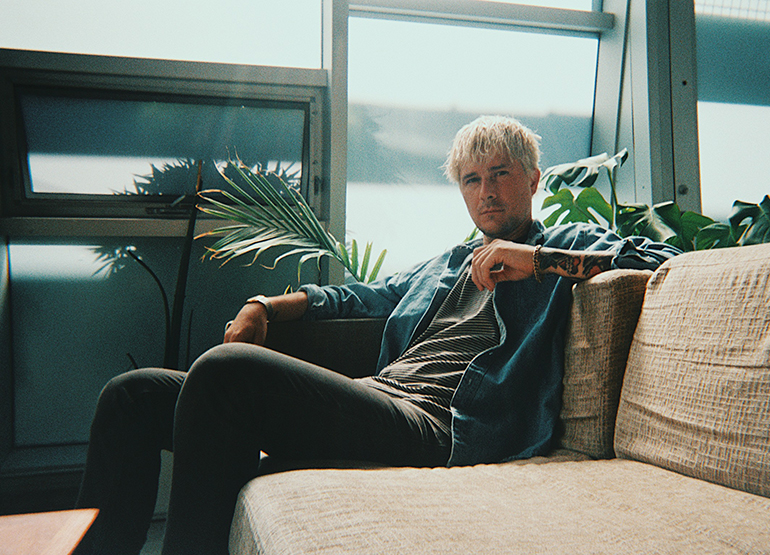 One of your first releases during the pandemic was a two track EP, "Gemini" and "Arizona." We heard you've also been working on a new album. Can you give us a hint of when that'll be dropping? Anything else you can share about it?
Right when the pandemic hit, I got super focused on making music. I figured it would only last for a few months and this was a great opportunity to get a lot of writing done because I obviously wasn't going to be traveling. "Gemini" and "Arizona" were made in that first week of lockdown.
In the last six months I've written a lot of music. Probably 45 finished songs. I'll never get them all out if I don't do an album. It's still in development, so I can't talk about much more than that right now, but I think early 2021 it will come out.
We see you've also recently founded a new label, PRGRSSN Records! Congrats! Tell us what inspired you to start a label and put together the current roster?
Thanks. I started PRGRSSN as a way to get more of my music out. Simple as that. As far as signing other artists to PRGRSSN, it occurred to me that labels weren't signing artists, they were signing audiences. If you didn't have a fan base already, you probably were not going to get signed by a decent record label. With PRGRSSN, I'm trying to change that. I want to release music that moves me, regardless of followers or plays.
We are definitely excited for everything you have going on! Obviously, this year we've had a lot of shows and festivals canceled or postponed. There have been a lot of live streams and virtual concerts popping up since quarantine started and we see you've been participating in a few of these virtual events. What is your experience having a couple of those under your belt? Are you planning on participating in any more in the coming months?
As far as the cancelled shows and festivals, it's been a major disappointment. It's no secret that shows are a large part of how I make an income from my music. So, losing that has been tough. But the bigger upset is not getting to interact with the fans. I didn't realize how important those moments were until I lost them.
I miss real clubs. I miss connecting with people. That's why I do this. Not for some virtual festival with webcams and algorithms. There's no feeling in that.
We can't wait for 2020 to be over and done with. Once things return to some semblance of normalcy and as soon as we're able to, where is the first place you'll want to visit and the first festival you'd want to play?
As soon as I can, I'll go to Ohio to visit my family. I have a nephew who I'm missing. I want to spend more time with my parents too.
I sort of want to play the Anjunabeats Elevation festival, but any festival will do!
Family and loved ones are so important, we have to keep them close especially in these times. Before we part ways, are there any other artists have you been into lately?
Love Is A Drag, Grace Joyner, Salvador Sobral, and Frances Quinlan.