Mambo Master Cachao Dead at 89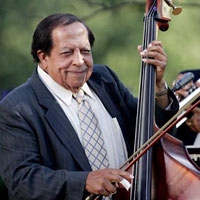 Israel Cachao López — the legendary Cuban composer, songwriter and bassist known simply as "Cachao" — died March 22 at age 89 in Coral Gables, Florida. Cachao is revered as the pioneer of the mambo, the genre created in the late 1930s that became the bedrock of modern Cuban music, salsa, and the Latin-influenced genres of rock and r&b.
Born in 1918, Cachao's 80-year career began in the silent movie era as he accompanied pianists in movie theaters in his native Havana. At 13, he became the bassist of the Havana Philharmonic, a position he held for 30 years. Simultaneously, with his brother Orestes, he played in a succession of dance orchestras and smaller ensembles as the duo wrote thousands of songs in the traditional Cuban styles of charanga and danzón. Slowing their frenetic rhythms to create an infectious and danceable style, they created their first mambo in 1937, a genre that ultimately packed dance floors worldwide. In Havana, Cachao assembled jam sessions — descargas — where recordings by Cachao y Su Ritmo Caliente became the foundation of salsa.
In 1962, Cachao moved to Spain before migrating to New York City to work with bands including those under the leadership of Tito Rodríguez and Eddie Palmieri. He relocated to Las Vegas, then to Florida where, in 1990, actor/director Andy Garcia organized recording sessions with leading Cuban musicians and a tribute concert for the Grammy-winning Master Sessions Volume I; Master Sessions Volume II and the concert filmed for a documentary, Cachao, Como Su Ritmo No Hay Dos. Garcia went on to produce two more albums with Cachao, Cuba Linda and the 2004 Grammy-winning Ahora Sí.
Honored with a National Heritage Fellowship from the National Endowment for the Arts and a star on the Hollywood Walk of Fame, at the time of his death Cachao was planning recording sessions and a European tour. A documentary, Cachao, Ahora Sí, is set for release next month.
"We are deeply saddened by the passing of one of Latin music's greats," said Delia Orjuela, BMI Assistant Vice President, Writer/Publisher Relations, Latin. "A true icon, Cachao's music crossed many borders, languages and generations. As the creator of the mambo and one of the greatest bassists of the 20th century, he will remain one of music's greatest architects and ambassadors."
Dan Kimpel