Remembering Liz Anderson, 1930-2011
Longtime BMI songwriter Liz Anderson has died. She was 81.
The writer behind Merle Haggard's "(My Friends Are Gonna Be) Strangers" and "Just Between the Two of Us," which Haggard recorded with Bonnie Owens, Anderson also penned songs for Jerry Lee Lewis, Del Reeves, Roy Drusky, Waylon Jennings, and others, including her daughter, Lynn Anderson, whose career gathered considerable early steam thanks to her recording of her mother's composition, "If I Kiss You (Will You Go Away)."
Read Bill Friskics-Warren's tribute to Liz Anderson in the New York Times.
Anderson was also a recording artist, whose persona mirrored her compositions' unlucky-in-love protagonists. Instead of pitiful, Anderson's heroines were wiser, stronger, and ready for revengeful tryst or two.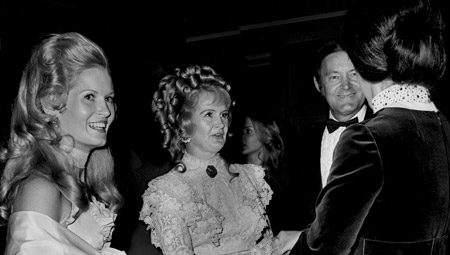 Lynn, Liz and Casey Anderson attend the BMI Country Awards in 1972.
Photo: BMI archives
A strong supporter of her songwriting peers, Anderson also served on the founding board of the Nashville Songwriters Association International.
She is survived by her husband, Casey Anderson, daughter Lynn, three grandchildren and two great-grandchildren.