Latin Rock Band Aljadaqui Celebrates New Release
Latin rock band Aljadaqui celebrated the release of their new album, Radio Del Alma, at New York's Branch Nightclub on September 19. BMI's Porfirio Pina, a staunch supporter of Aljadaqui, whose members all recently signed with BMI, was in attendance.
Aljadaqui, natives of the Dominican Republic, are currently riding high with their new single, "Tu Que Das," which doesn't stray far from their previous Latin rock anthems, including "Mentirosa," "De Medio Lao" and "No queda mas." In addition, they have garnered several awards in the Dominican Republic, including Best Rock/Alternativa Group at the Cassandra Awards.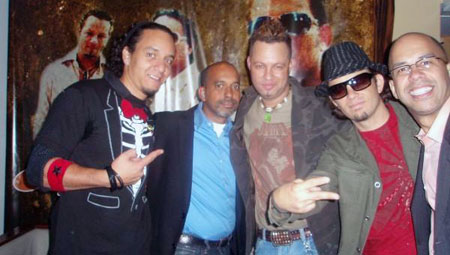 Aljadaqui's Jose Vizcaino; manager Ramon Pimentel (Sonido Secreto); Aljadaqui's Mariano & Roberto Lantigua; and BMI's Porfirio Piña