Koffeehouse Music Presents 5th Annual Evening of Independence Charity Show
Koffeehouse Music will proudly present its 5th annual Evening of Independence charity concert on Sunday, August 21, and is currently offering BMI songwriters, composers and music publishers discounted tickets. Staged at the Ford Amphitheatre in Hollywood, the event will raise funds for the Fender Music Foundation.
The lineup includes Southern California trendsetter Tyrone Wells, America's Got Talent winner Michael Grimm, Austin-based pair Jamestown Revival, Hits magazine's #1 2011 "Artist to Watch" Allen Stone, MTV's "A Band to Know in 2011" Of Verona, power pop-rockers Satellite, and Bravo's Platinum Hit stars Jackie Tohn and Jes Hudak.
BMI members will receive 20% offer the general admission price. Buy tickets now and enter discount code BMI when prompted. VIP tickets are also available for $100. All proceeds will go to the Fender Music Foundation's efforts to place musical instruments in schools across the country.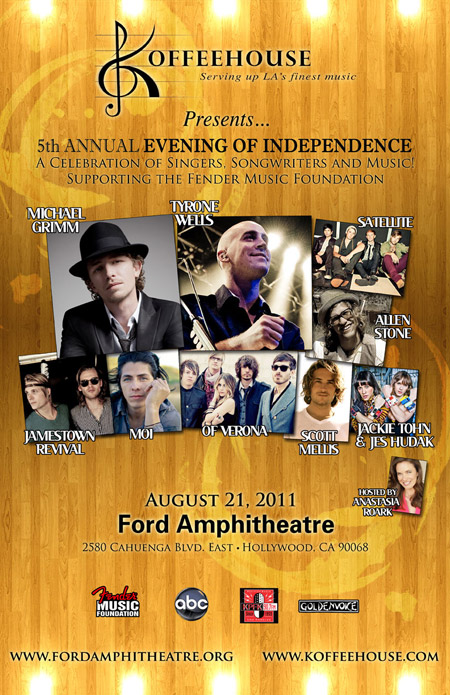 About Koffeehouse Music
Koffeehouse Music is Los Angeles' premier, grassroots live music production company, best known for showcasing the most talented emerging singer-songwriters and bands in unique performance spaces. Koffeehouse takes pride in giving these artists a platform to share their extraordinary ability with music industry executives and music lovers alike. Winners of the 2006 Community Service Award from the LA Music Awards, Koffeehouse is a official partner of the Los Angeles County Arts Commission, in connection of the Ford Amphitheatre 2008, 2009 and 2010 Seasons.