Justin Townes Earle, Jason Isbell, Robert Ellis & Shelly Colvin Play SoundLand 2011
Showcase presented by BMI and Billy Reid, with Ground Control Touring, slated for Sept. 23 at Cannery Ballroom in Nashville
BMI will partner with Billy Reid and Ground Control Touring to present a Southern-bred showcase on Friday, September 23 at the Cannery Ballroom (One Cannery Row, Nashville, TN 37203) during SoundLand 2011 in Nashville. Headliner Justin Townes Earle will bring his provocative Tennessee-rambler songs; Jason Isbell & the 400 Unit will fire off their Muscle Shoals-steeped swamp rock; Houston kid Robert Ellis will reaffirm the folk-meets-twang still cultivated where West meets South; and Alabama-bred, East Nashville-based singer/songwriter Shelly Colvin will inject her soul-baring, soul-searing music into the mix.
BMI is a longtime supporter of SoundLand—formerly dubbed Next Big Nashville. Industry players and music fanatics may be coming together under a new name, but SoundLand's devotion to elevating and celebrating music's bottomless well of new sounds rages stronger than ever. More than 100 performers, ranging from unsigned singer/songwriters to major label artists, will play venues throughout downtown Nashville September 21-24.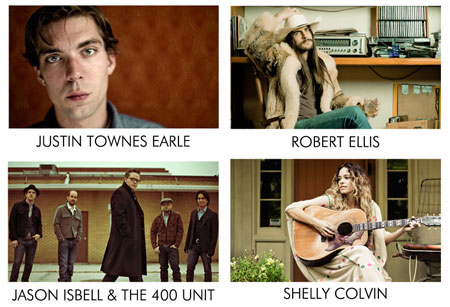 LISTEN TO THE LINEUP
Justin Townes Earle
Jason Isbell & the 400 Unit
Robert Ellis
Shelly Colvin

Next Big Nashville presents SoundLand: September 21-24
Festival wristbands: $65
VIP badge: $150
For single show tickets, wristbands, and more information: www.nbnsoundland.com

Partners
Billy Reid, men's and women's luxury clothing, shoes, and leather
Ground Control Touring, a boutique music booking agency
Cannery Ballroom, one of Music City's favorite venues

BMI practices a layered approach to songwriter and composer development, comprising educational, creative and performance opportunities. BMI initiatives include the How I Wrote That Song panel series, BMI Lehman Engel Musical Theatre, Sundance Institute Composers, Jason Blume Songwriters and Jazz Composers workshops; monthly and quarterly local showcases highlighting promising new voices; and stages, panels and slots at premier national festivals including South By Southwest, Lollapalooza, Austin City Limits Music Fest, Sundance Film Festival, Bonnaroo Music & Arts Festival, the Key West Songwriters Festival and more. BMI's MusicWorld magazine profiles legends and format leaders alongside up-and-comers, while bmi.com offers a cutting-edge suite of online tools, as well as industry news, editorials and career advice. BMI's seven, genre-specific awards ceremonies celebrate songwriters and composers each year, elevating the country's finest behind-the-scenes creators.