Industry Celebrates BMI President Del Bryant - 2014 Golden Mike Award Recipient
More than 200 television, radio and music industry executives gathered at the Plaza Hotel in New York City on Monday, February 24, 2014, to celebrate the illustrious career of Broadcast Music, Inc. President Del Bryant, who was awarded the 2014 Golden Mike Award by the Broadcasters Foundation of America for his lasting contributions to the music industry.
The evening was hosted by Bob Schieffer, host of CBS' Face The Nation, with memorable live performances by singer-songwriter, musician and actor Kris Kristofferson and singer-songwriter Brenda Russell. Presenters for the evening were longtime personal and professional friends of Bryant: Michael Bolton, performer and BMI songwriter; Jack Sander, former Chairman of the BMI Board of Directors; and Sandra Lee, internationally acclaimed culinary and home style expert and host of four programs on the Food Network, the Cooking Channel and HGTV.
In addition to the performances, a very moving video tribute to Bryant provided a glimpse into his outstanding career with testimonials from some of music's biggest names, including Dolly Parton, John Williams, Willie Nelson, and others. Bryant joins a legacy of Golden Mike honorees from the BMI family including the late Frances Preston, former BMI President and CEO (2004), and current BMI Board members Catherine Hughes of Radio One (2002) and Virginia Hubbard Morris of Hubbard Broadcasting and the Hubbard Family (1997).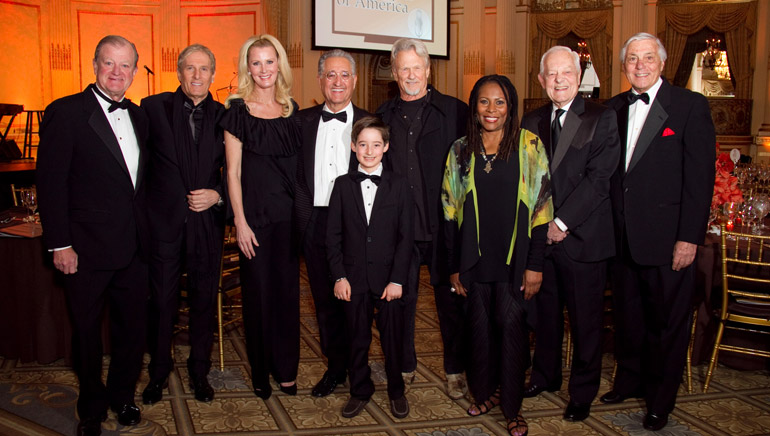 Pictured L-R: Broadcasters Foundation of America President Jim Thompson, BMI songwriter Michael Bolton, culinary and home style expert Sandra Lee, BMI's Del Bryant, Del's sonThaddeus Bryant, BMI songwriter Kris Kristofferson, BMI singer-songwriter Brenda Russell, CBS' Bob Schieffer and Broadcasters Foundation of America Chairman Phil Lombardo.