Hard Times in the Big Easy
Four years have not lessened the horror of what happened in New Orleans during the first week of September 2005. Spared a direct hit from Hurricane Katrina, the city was decimated when the levee and federal flood protection systems failed in more than 50 places. Eighty percent of the city flooded. Visions of hell unfolded in real time as global media captured images of victims waiting for rescue and fighting to hold on.
Today, the people of New Orleans are still fighting, and in many ways, the city's tight-knit and hard-hit music community is leading the charge.
The birthplace of jazz and Louis Armstrong, New Orleans is a musical hot house that has incubated the greatest traditions in jazz, blues, soul and rock and roll. From Armstrong, Jelly Roll Morton and King Oliver, to Fats Domino and Professor Longhair, to Dr. John, the Neville Brothers and the Meters, the Marsalis family and Harry Connick, Jr., to Allen Toussaint, Irma Thomas, Lee Dorsey and Louis Prima, to influential lesser known legends like Snooks Eaglin, Ernie K-Doe, Earl King, Guitar Slim, Willie Tee, and others—not to mention Dixieland, brass bands, Zydeco and a vibrant hip-hop scene—the problem with listing the incredible musicians of New Orleans is the fear of a glaring omission.
"It's a different place here," says four-time Grammy Award-winning producer John Snyder, the program director for the music industry studies program at Loyola University. "It's a certain thing in the air. I don't know what you'd call it. A soulfulness and an earthiness. It's got that tropical vibe, where people seem to be conserving energy all the time. It is more about conserving energy than expending energy. It's in the music and it characterizes all efforts—academic, entrepreneurial, legal, you name it. It has lived in a different century every century it has been in, and it is never the future. It's always in a historical context of culture and booze and music and architecture and dilapidated elegance. But after Katrina, everything changed."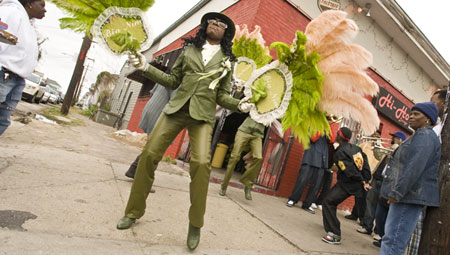 New Orleans's famous Lower 9th Ward neighborhood contributes to the city's cultural identity in a big way. Touchstone events include the Original Big Nine Social & Pleasure Club Annual Parade, captured here on December 21, 2008. (Photo by Erika Goldring)
"The music community in New Orleans was so neighborhood based," say Reid Wick, senior project coordinator for The Recording Academy, who helped administer MusiCare's Hurricane Relief Fund and Music Rising's instrument replacement program. "So much of it was learning how to play in the bars and churches of your neighborhood. After Katrina, so much of that was totally disrupted. Some entire regions of the city are vast wastelands, still—and not only poor areas."
But even in the darkest days after the storm, the musical community worked together to help each other and their city. They were matched with a vast outpouring of support from programs like MusiCares and Music Rising. The city had the sympathy of the world, and while volunteers streamed in to help rebuild, the city's musicians found themselves in greater demand than ever before.
"The storm brought a lot of attention to the music community," says Snyder. "It created work as well as displacement. It created new opportunities as well as destruction and loss. It is like everything else. It is not all one thing."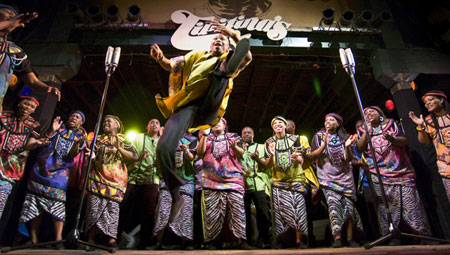 The Soweto Gospel Choir performs on April 19, 2007, at Tipitina's in New Orleans. The choir had recorded a track with Robert Plant earlier that day for the Fats Domino tribute album,
Goin' Home
. (Photo by Erika Goldring)
"Many musicians were able to come back and for awhile, there was actually more work than there had been in the past," agrees Scott Aiges, director of programs, marketing and communications for the New Orleans Jazz and Heritage Foundation. "You had places tripping over one another to hire New Orleans musicians to help support them. But that has died off now. The number of gigs has decreased significantly and the pay scale has gone down significantly, so it is much harder to make a living as a musician—much harder. And it has always been challenging. It's a city so famous for its music that people think musicians here have it made—but musicians by no means have their livelihoods guaranteed in New Orleans. In fact, we did a study back when I was working for the mayor's office before the storm, and musicians were making on average about $21,000 a year. So we referred to the musicians a lot of the time as the working poor."
Compounding the destruction and displacement wrought by the storm was the long-term damage done to New Orleans' tourism industry, the economic lifeblood of the music community. While the city's struggles to attract visitors began to pay off a few years after the storm, they were dramatically undercut last year by the global financial crisis.
"It seemed like we were really starting to see some improvement in the local economy," says Mark Fowler, manager of Tipitina's Music Office Co-Op in New Orleans. "The local tourism industry was really starting to get back into good shape. And then we had this big economic crash that just derailed everything."
The wealth of talent in New Orleans also seems to compound the problems. Though the community is surprisingly uncompetitive, their sheer numbers drive down the fees they can command.
"Music is everywhere," Snyder says. "Everyone is a musician. The way up North people carry brief cases, down here they carry instruments. But musicians have never made money here. People don't like to pay for music. They might pay a little bit, but not enough to support it. If you go out in New York City and go to a jazz club, it's going to cost you a hundred bucks for two people. Nobody would pay a hundred dollars to hear music here. If you ask for ten, you might get people to go."
Much like the musical traditions the community is trying to preserve, the recovery efforts are marked by an intense level of creativity, generosity, humility and versatility. Wick's deep ties to the hardest hit members of the community allowed him to see the need for an organization to help coordinate relief efforts, which lead to the founding of Sweet Home New Orleans.
"Sweet Home New Orleans is an umbrella organization for 14 different relief agencies," Wick says. "There are probably 5,000 musicians in New Orleans and many of them live in a totally cash world. They've never had a checking account or a credit card, so they have no credit history established. With Sweet Home we tried to help with housing issues, and wound up being a case management and application service to streamline the application process for 14 different relief agencies, like MusiCares, Society of Singers, the Jazz and Heritage Foundation, the Musicians Clinic, and three of four other agencies that were springing up. We're still going strong three or four years later."
"Still going strong three of four years later." It perfectly encapsulates the hope and heartbreak the community balances. Today, there are still many ways to help the city's citizens and musicians, but for Aiges, one solution is simple.
"Come to New Orleans," he says. "Bare witness. Understand there is still a struggle going on, but the culture of New Orleans remains intact and it remains a tremendously joyous place to experience. Everyone who comes to New Orleans takes a little piece of it with them when they go. And the more that is spread throughout the world, the more people are aware of how special New Orleans is. And you can't predict how that will resonate and how that will change things for the better."
By Ari Surdoval. Check out his blog, The Big Get-Even