GRAMMY-Winning BMI Songwriter Helps Educate Tampa Bay Businesses on Music Licensing
BMI teamed up with the Florida Restaurant and Lodging Association recently to present a music licensing seminar for Tampa Bay area bars, hotels and restaurants. The workshop, entitled "Essentials of Music Licensing," was held at the Chart House in Tampa and was designed to educate bar, restaurant and hotel executives on copyright law and how to legally perform music in their establishments. The seminar also focused on the music industry ecosystem and where the licensing fees go once they are paid to BMI and the other performing rights organizations. GRAMMY award-winning BMI songwriter Frank Myers was on hand to discuss the important role that the fees restaurants, bars and hotels pay BMI have played in his career and his ability to make a living writing songs. Meyers also treated the audience to an intimate performance of some of his biggest hits, including "You and I," written for Crystal Gayle and Eddie Rabbit and "I Swear," a huge song for both John Michael Montgomery and All 4 One.
The seminar was part of a series of workshops BMI is sponsoring across the country that are intended to help educate bar, restaurant and hotel operators on the legalities of playing music use in their venues.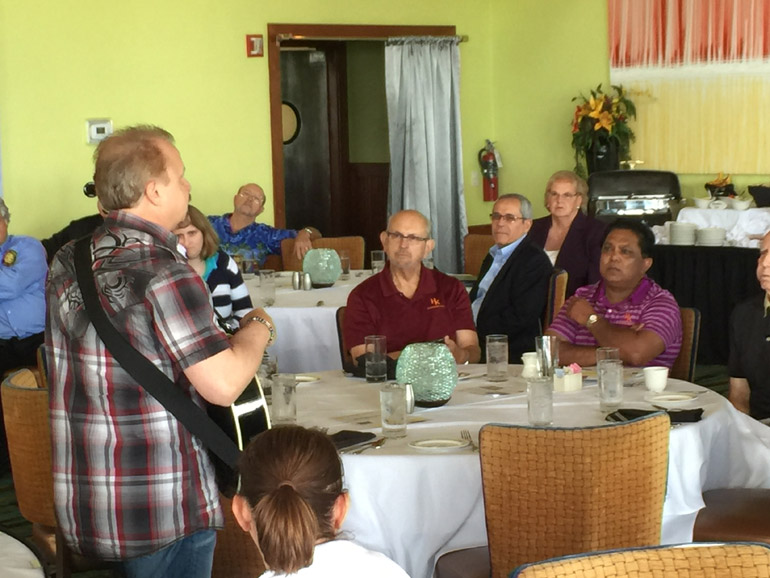 BMI songwriter Frank Myers speaks and performs at the BMI/FRLA seminar.