Gospel Music Channel Airs 2008 BMI Trailblazers Awards Special
Vanessa Bell Armstrong, Mighty Clouds of Joy & Pastor Marvin Winans Honored
The Gospel Music Channel aired an exclusive, one-hour special Sunday, September 14 highlighting the annual BMI Trailblazers of Gospel Music Awards gala, held earlier this year in Nashville. The program features dynamic musical tributes to BMI gospel greats Vanessa Bell Armstrong, Mighty Clouds of Joy and Pastor Marvin Winans. The broadcast marks the first time the public gained exciting access to the private, invitation-only event.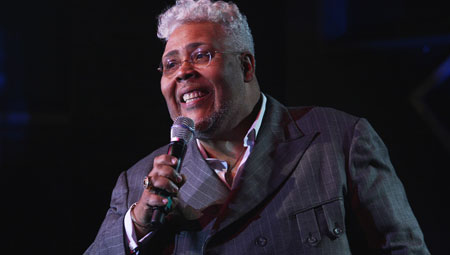 Legend Rance Allen performs "I've Been in the Storm Too Long" in the 2008 tribute to the Mighty Clouds of Joy.
Hosted by contemporary gospel queen Dorinda Clark Cole and BMI Vice President, Writer/Publisher Relations Catherine Brewton at Nashville venue Rocketown, the Trailblazers event on the Gospel Music Channel brings spine-tingling moments into homes across the country. The special features intimate performances by Smokie Norful, Keith "Wonderboy" Johnson, Rance Allen, Dave Hollister, Kelly Price, Anthony Hamilton, Fred Hammond, Marvin Winans, Jr., Lowell Pye & Juan Winans in tribute to contemporary and traditional gospel bridge builder Vanessa Bell Armstrong, legendary group Mighty Clouds of Joy and Pastor Marvin Winans.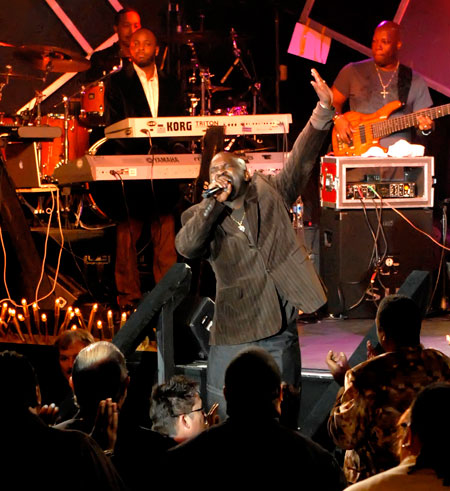 Keith "Wonderboy" Johnson kicks off the 2008 musical tribute to Mighty Clouds of Joy, performing "I Came to Jesus."
On October 26, the Gospel Music Channel will offer viewers another one-hour special documenting the 2007 installment of the Trailblazers ceremony, during which BMI lauded trendsetters Yolanda Adams and Fred Hammond for their epic contributions to the gospel genre. Featured tribute performers include Coko, Karen Clark-Sheard, Sheri Jones-Moffett, Kim Burrell, Marvin Sapp, and Israel Houghton, along with Yolanda Adams herself.
For Gospel Music Channel availability, detailed show schedules and more, please visit www.gospelmusicchannel.com.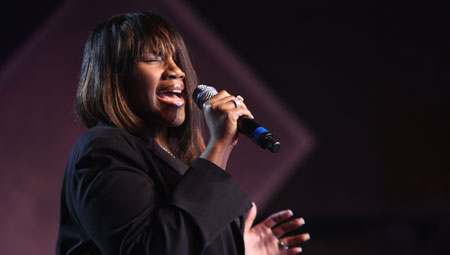 Kelly Price performs "Nobody but Jesus" in tribute to Vanessa Bell Armstrong.
About The Gospel Music Channel
The Gospel Music Channel is the first 24-hour, all music entertainment network devoted to the uplifting, inspiring and diverse music that is gospel. From the soulful sounds of artists like CeCe Winans, to the country gospel roots of Johnny Cash and Randy Travis, to the contemporary Christian music stylings of Kirk Franklin and Jars of Clay, Gospel Music Channel celebrates music that has a deep, spiritual place in people's lives. It embraces an audience that crosses cultures and captures generations delivering a fan base so large and passionate it deserves its own network.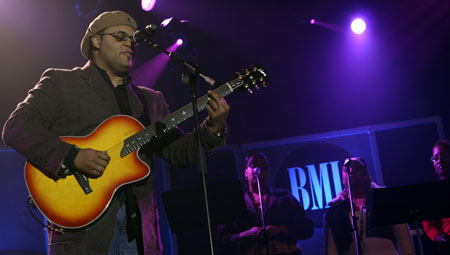 Israel Houghton gives a breathtaking performance in tribute to Fred Hammond at the 2007 BMI Trailblazers of Gospel Music Awards.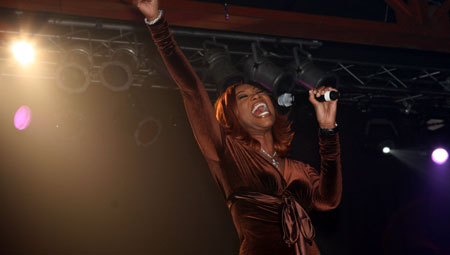 2007 Trailblazer honoree Yolanda Adams says "thank you" with a mind-blowing performance.
All Photos by Arnold Turner, excluding Photo 2 by Kay Williams