Gloria Estefan, Amador Bustos to Receive Merage Foundation for the American Dream Honors
BMI songwriter/artist Gloria Estefan and BMI Board member Amador S. Bustos will be honored by the Merage Foundation for the American Dream at its seventh annual Leadership Awards Dinner, to be held June 8, 2010 at the National Press Club in Washington, D.C.
Estefan, internationally renowned songwriter, recording artist and author, will receive the National Leadership Award in Music, Arts & Culture, while Bustos, President and CEO of Bustos Media, LLC, will receive the Foundation's National Leadership Award in Media.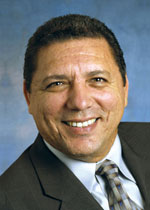 The Merage Foundation for the American Dream is dedicated to helping immigrants join mainstream America and become leaders in their communities and in the nation as a whole. It encourages all Americans to recognize and celebrate the contributions of new Americans and their individual and collective impact on the nation.
"All of us at BMI are extremely proud of our association with these two remarkable individuals, both of whom achieved extraordinary levels of success in their chosen fields after immigrating to the U.S.," said BMI President & CEO Del Bryant. "We join with Merage Foundation for the American Dream in saluting them."