Gerardo Ortiz Leads BMI Charge at Billboard Mexican Music Awards
Gerardo Ortiz dominated the first-ever Billboard Mexican Music Awards, held Thursday, October 20 at the Orpheum Theater in Los Angeles. The inaugural ceremony celebrated the top songwriters and performers of Regional Mexican music, reflecting the explosive growth of the genre and Ortiz's current leadership of it. He scored six wins including Artist, New Artist, Male Artist and Norteño Artist of the Year; Calibre 50's "Culiacán vs. Mazatlán," written by and featuring Ortiz, earned Song of the Year in the Vocal Event field.

Read Gerardo Ortiz's profile in BMI MusicWorld magazine.
Throughout the evening, the majority of trophies belonged to BMI songwriters, emphasizing the strength of BMI's extensive Regional Mexican repertoire.
"Ni Lo Intentes" clinched two big wins for its creative team. Recorded by Julion Alvarez y Su Norteño Banda and written by Juan Diego Sandoval, Luciano Luna, and Juan Jose Leyva, the song received Song and Banda Song of the Year trophies. Larry Hernández also earned two awards: Songs Artist and Norteño Song of the Year for "Arrastrando Las Patas," which he wrote and recorded.
Horacio Palencia, the reigning BMI Latin Songwriter of the Year, claimed the Songwriter of the Year crown, while past BMI Latin Songwriter of the Year Espinoza Paz secured the Banda Artist of the Year win. Jenni Rivera underscored her staying power, winning Female Artist of the Year. Pedro Fernandez's "Amarte a la Antigua," co-written by Jose F. Lugo Leal (SACM), nabbed Ranchero/Mariachi Song of the Year.
Regional Mexican music's top groups also walked away with armfuls of hardware. Intocable earned Artist of the Year in the Duo or Group category, and La Arrolladora Banda El Limon claimed the Airplay Artist of the Year award. Grupo Montez de Durango's "Mi Necesidad," written by Christian Valle, received Duranguense/Grupero Song of the Year honors.
Editora Marcha Musical earned the Publisher of the Year title, while Universal Music claimed the Publishing Corporation of the Year win.
Proving that true icons transcend time and medium, Selena was named Digital Download Artist of the Year.
The ceremony will be broadcast on Telemundo Oct. 27 at 7 p.m. EST. For more information on the first annual Billboard Mexican Music Awards, presented by State Farm, visit www.billboard.com.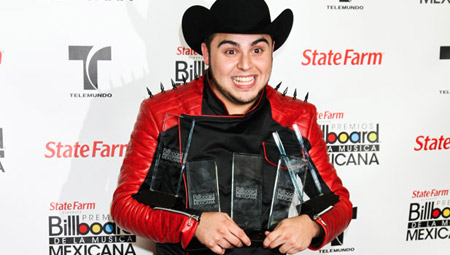 Gerardo Ortiz shows off his considerable awards haul at the first annual Billboard Mexican Music Awards. Photo by Arnold Turner
2011 Billboard Mexican Music Awards
BMI winners

Artist of the Year
Gerardo Ortiz

New Artist of the Year
Gerardo Ortiz

Male Artist of the Year
Gerardo Ortiz

Female Artist of the Year
Jenni Rivera

Artist of the Year, Duo or Group
Intocable

Song of the Year
"Ni Lo Intentes"
Julion Alvarez y Su Norteño Banda
Written by Juan Diego Sandoval, Luciano Luna, and Juan Jose Leyva

Song of the Year, Vocal Event
"Culiacán vs. Mazatlán"
Calibre 50 featuring Gerardo Ortiz
Written by Gerardo Ortiz

Songs Artist of the Year
Larry Hernández

Airplay Artist of the Year
La Arrolladora Banda El Limon

Digital Download Artist of the Year
Selena

Albums Artist of the Year
Gerardo Ortiz

Banda Song of the Year
"Ni Lo Intentes"
Julion Alvarez y Su Norteño Banda
Written by Juan Diego Sandoval, Luciano Luna, and Juan Jose Leyva

Banda Artist of the Year
Espinoza Paz

Norteño Song of the Year
"Arrastrando Las Patas"
Larry Hernández
Written by Larry Hernández

Norteño Artist of the Year
Gerardo Ortiz

Ranchero/Mariachi Song of the Year
"Amarte a la Antigua"
Pedro Fernandez
Co-written by Jose F. Lugo Leal (SACM)

Duranguense/Grupero Song of the Year
"Mi Necesidad"
Grupo Montez de Durango
Written by Christian Valle

Songwriter of the Year
Horacio Palencia

Publisher of the Year
Editora Marcha Musical

Publishing Corporation of the Year
Universal Music