Gamble & Huff Honored at 26th Annual NABOB Awards
BMI was a sponsor of the 26th National Association of Black Owned Broadcasters (NABOB) Annual Communications Awards Dinner, held Friday, March 19 in Washington, D.C. BMI Icons Kenneth Gamble and Leon Huff earned the Pioneer in Music Award, which recognizes the reverberating influence of their Philadelphia sound. Additional honorees included Maxwell, Hezekiah Walker and Rev. Al Sharpton.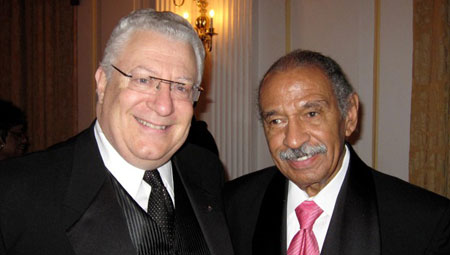 Congressman John Conyers (D-MI, Chairman of the House Judiciary Committee) and BMI's Fred Cannon mingle during the NABOB Awards Dinner in D.C.
About NABOB
NABOB is the first and largest trade organization representing the interests of African-American owners of radio and television stations across the country. The association was organized in 1976 by a small group of African-American broadcasters who desired to establish a voice and a viable presence in the industry and to address specific concerns facing African-American broadcasters. Since its inception, NABOB has grown into a major trade organization representing the interests of more than 245 black-owned commercial radio stations and 13 commercial television outlets