Film Music 'Industry Insider' Draws Standing-Room Crowd
BMI New York presented the first edition of its new bi-monthly music industry panel series for 2007. Produced in conjunction with Gibson Guitar and Billboard magazine, the first "Industry Insider," entitled "Music in Film: Soundtracks in 2007," drew a standing-room-only crowd to the Gibson Baldwin NY Showroom on Feb. 13.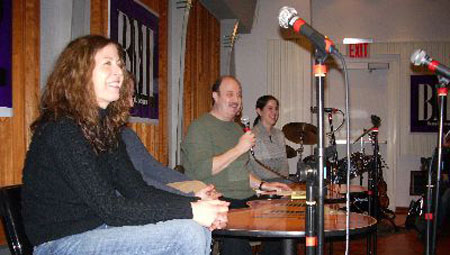 Panelists Janice Ginsberg, Steve Scharf and Karen Lamberton address the audience
The moderated Q&A session offered tips and tricks from established film music executives, who discussed soundtrack placements, networking, and how to make the perfect pitch. Panelists included music supervisors Jim Dunbar and Janice Ginsberg; Karen Lamberton, VP, Soundtracks and Film & TV Music, RCA Music Group; Gillian Morris, Senior VP, Film & Television Music/Licensing, Wind-Up Records; and moderator Steven Scharf; Senior VP, Creative, Carlin America & President, Steven Scharf Entertainment.

Attendees listen intently to the panelists
Modeled after a program created in 2006 by the BMI Los Angeles staff, the New York "Industry Insider" series offers an inside look into the making and marketing of music. Noted industry taste-makers will provide insight on hot topics affecting songwriters, musicians, managers and the industry at large. Future topics include:
April 10: "Building Your High-Octane Team"
June 12: "A&R: Getting Their Attention"
Aug. 14: "Groups That Support You and Your Music"
Oct. 9: "Publishing 101: You've Got a Hit, Now What"