Eclectic Music Entertainment Book Fair & Conference at the University of Miami
Demo Entertainment Group in association with the University of Miami's Music Entertainment Industry Student Association (M.E.I.S.A.) Chapter held the Music Entertainment Book Fair & Conference on September 25 at the Phillip & Patricia Frost School of Music, where BMI's Jake Cavazos participated on the Demo Review panel. The event ended with a showcase featuring performances by Kyle Crossland, Camar, and BMI artists Vic Kingsley and Alejandra Alberti.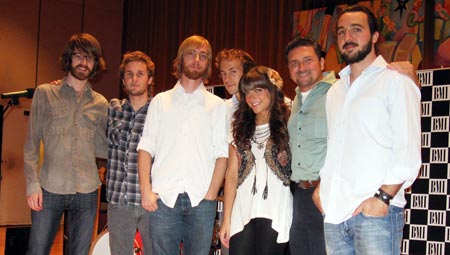 Shown are (l-r): Kingsley's band members Luke Moellan, Jorge Balbi, Ethan Carlson, and John Drapper; Alejandra Alberti, BMI's Jake Cavazos; and Vic Kingsley.
The Music Entertainment Book Fair & Conference is one of South Florida's most eclectic literary events, offering educational and networking opportunities designed to educate students, potential unsigned talent, and future leaders about the music and entertainment business through the world of print media. Participants heard music industry professionals discuss how to succeed in today's climate. Entertainment books and related products were also available for purchase.