Discount Available for Latin Urban Mixx/L.U.M. Awards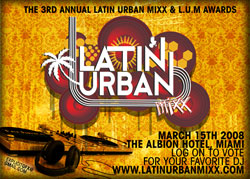 The 3rd Annual Latin Urban Mixx and L.U.M. Awards will be held in the heart of South Beach's Art Deco district at the Albion Hotel on March 15, 2008.
Latin Urban Mixx focuses on five elements of Latin urban culture: music, media, entrepreneurship, fashion and art. On the agenda for this year's Mixx are sneaker exhibitions displaying custom-made designs by Sole Junkie, along with artwork from two talented Latin artists. At the core of the day's itinerary is an entrepreneur panel consisting of well-respected industry icons. One of the event's highlights is the poolside fashion show, presented by one of the industry's top clothing lines, as it showcases the most promising up-and-coming designers. The event's climax brings together Latin DJs nationwide for the L.U.M. Awards Dinner, which gives recognition to the top DJs of each region and area of expertise.
Winners are voted for by their fans through the official Latin Urban Mixx website. Don't miss your chance to vote for your favorite DJ at latinurbanmixx.com.
BMI songwriters receive a discounted rate of $150. Register at latinurbanmixx.com to receive $100 off the final rate.