Dave Koz Earns Star on the Hollywood Walk of Fame
BMI recently helped Dave Koz celebrate 20 years of music as the acclaimed jazz musician earned a star on the Hollywood Walk of Fame. The ceremony, held on September 22 at 1750 N. Vine Street in front of Capitol Records, featured stirring testimony of Koz's greatness from fellow luminary Barry Manilow.
In a career spanning two decades, Dave Koz has established himself as a platinum-selling artist, humanitarian, entrepreneur, radio host, and instrumental music advocate. A six-time Grammy® nominee, the list of artists he has played with bears testament to his talent and includes such musical luminaries as Burt Bacharach, Ray Charles, Natalie Cole, Celine Dion, Kenny Loggins, U2, Barry Manilow, Michael McDonald, Luther Vandross, and Rod Stewart.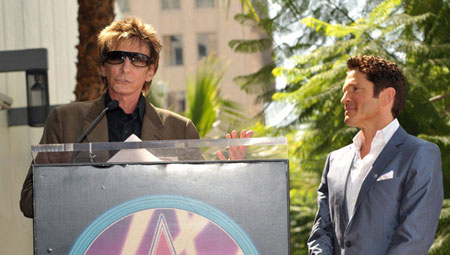 Barry Manilow discusses the incomparable Dave Koz as the latter receives his star on the Hollywood Walk of Fame September 22. (Photo by Lester Cohen/Wireimage)
Many of his own hits — smash singles such as "You Make Me Smile," Koz's signature song, "Castle of Dreams," "Can't Let You Go" featuring the late Luther Vandross, "Together Again," "Honey-Dipped," "All I See Is You," and "Faces of the Heart," which was the theme song for "General Hospital" for more than 10 years — were collected in his first-ever retrospective album, Dave Koz – Greatest Hits, which bowed at #1 on both Billboard's Top Contemporary Jazz Albums chart and iTunes' Jazz Album chart in September 2008. "Life in the Fast Lane," one of four new songs included on the album, spent seven weeks at #1 on the Smooth Jazz chart, while "Bada Bing" hit # 2. Koz's latest single, "And Then I Knew," produced by Rob Cavallo (Dave Matthews Band, Green Day), just went to radio.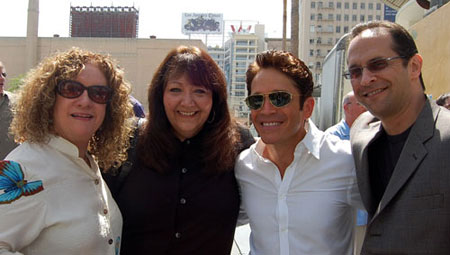 Pictured at the ceremony celebrating Dave Koz's star on the Hollywood Walk of Fame are BMI's Linda Livingston and Doreen Ringer Ross, Koz and David Grossman, NARAS EVP of Operations. (Photo by Marlene Meraz)