Dailey and Vincent Lead BMI Winners at 2008 IBMA Awards
Duo and longtime BMI songwriters Dailey and Vincent underscored their breakout year with ferocity at the 19th Annual International Bluegrass Music Association Awards held Thursday, October 2 at the Ryman Auditorium in Nashville. The pair walked away with seven trophies – a historic high for any artist during bluegrass music's biggest night. Hosted by icon Del McCoury, the sold-out show also lauded BMI's Michael Cleveland, who took home two awards, legend Dale Ann Bradley, slide guitarist Andy Hall, dobro virtuoso Rob Ickes, guitarist Josh Williams, and mandolin player Adam Steffey. Before the ceremony, guests mingled at the annual BMI pre-awards party.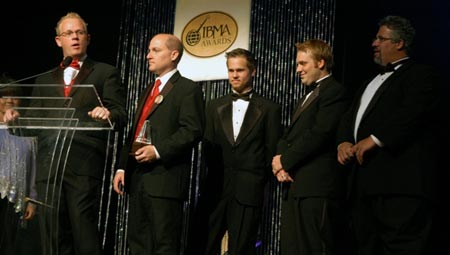 Dailey and Vincent accept the IBMA Entertainer of the Year trophy. (Photo by Alan Mayor)
Comprising genre veterans Jamie Dailey and Darrin Vincent, Dailey & Vincent burst onto the bluegrass scene in 2007 with their eponymous debut. The duo's seven wins arrived in the coveted Entertainer, Vocal Group, Album, Emerging Artist, and Gospel Recorded Performance of the Year categories, while Dailey took home an individual honor for Male Vocalist of the Year.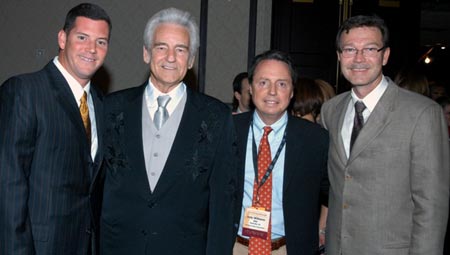 Before hosting the ceremony, venerable bluegrass statesman Del McCoury mingled at the BMI pre-awards reception. Pictured are (l-r): BMI's Mark Mason, Del McCoury, BMI's Jody Williams, and IBMA Executive Director Dan Hays. (Photo by Alan Mayor)
Fiddle master Michael Cleveland received his sixth Instrumentalist of the Year win in the Fiddle field, while he and his band Flamekeeper secured Instrumentalist Group of the Year honors for the second consecutive year. Dale Ann Bradley claimed the Female Vocalist of the Year trophy, also for the second consecutive year. Rob Ickes, Josh Williams, and Adam Steffey won awards in the Instrumental Performers of the Year Dobro, Guitar, and Mandolin categories, respectively. With his tenth win in the extremely competitive dobro field, Ickes has taken home more awards than any other artist in a single category in IBMA history. Josh Williams received his very first award, while Adam Steffey claimed his sixth honor. Promising up-and-comer Andy Hall walked away with his first award, winning in the Instrumental Album of the Year field for his project, Sound of the Slide Guitar. Songwriters Tim Stafford and Steve Gulley also enjoyed a big night, as their composition "Through the Window of a Train," recorded by Blue Highway, claimed Song of the Year bragging rights.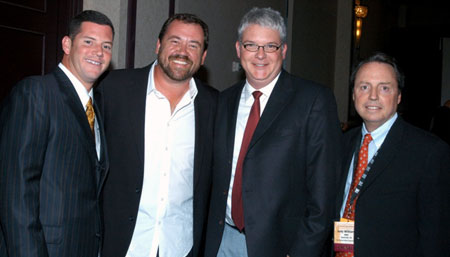 Multiple nominee and longtime BMI songwriter Dan Tyminski grins for the camera, flanked by BMI fans. Pictured are (l-r): BMI's Mark Mason and Dan Tyminski, with BMI's Perry Howard and Jody Williams. (Photo by Alan Mayor)
As the 2008 recipient of the genre's highest honor, BMI songwriter Bill Clifton will take his place in the International Bluegrass Music Hall of Fame. Clifton's profound legacy rests proudly upon the creation of a strong European bluegrass fanbase and a songwriter catalog that includes "Mary Dear," "Little White Washed Chimney," "Walking In My Sleep," "Going Back To Dixie," "Blue Ridge Mountain Blues" and "Are You Alone."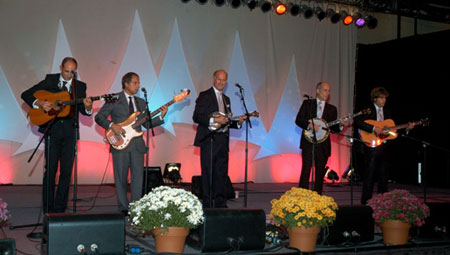 A bluegrass troupe from Italy entertained guests at the BMI pre-awards mixer. (Photo by Alan Mayor)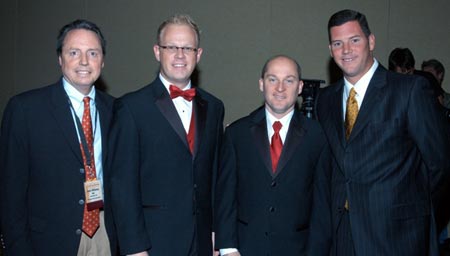 Pictured are (l-r): BMI's Jody Williams, Dailey & Vincent's Jamie Dailey and Darrin Vincent, with BMI's Mark Mason. (Photo by Alan Mayor)
2008 BMI IBMA Award Winners
BLUEGRASS HALL OF FAME INDUCTEE Bill Clifton
ENTERTAINER OF THE YEAR Dailey & Vincent
VOCAL GROUP OF THE YEAR Dailey & Vincent
INSTRUMENTAL GROUP OF THE YEAR Michael Cleveland & Flamekeeper
MALE VOCALIST OF THE YEAR Jamie Dailey
FEMALE VOCALIST OF THE YEAR Dale Ann Bradley
SONG OF THE YEAR (song, artist, songwriter(s)) "Through the Window of a Train" Recorded by Blue Highway Co-written by Tim Stafford & Steve Gulley
ALBUM OF THE YEAR (album, artist, producer(s), label) Dailey & Vincent Dailey & Vincent Produced by Jamie Dailey & Darrin Vincent, Rounder Records
RECORDED EVENT OF THE YEAR (album, featured artists, producer(s), label) Everett Lilly & Everybody and Their Brother Featuring Marty Stuart, Rhonda Vincent, Billy Walker, Ronnie McCoury, Rob McCoury, David Ball, Larry Stephenson, Joe Spivey, Eddie Stubbs, Jason Carter, Dickey Lee, Freddy Weller, Andy May, Darrin Vincent, Clay Rigdon and Bill Wolfenbarger Co-produced by Bill Wolfenbarger; Swift River Music
INSTRUMENTAL ALBUM OF THE YEAR (album, artist(s), producer(s), label) Sound of the Slide Guitar Recorded and produced by Andy Hall, Sugar Hill Records
GOSPEL RECORDED PERFORMANCE OF THE YEAR (song or album, artist(s), producer(s), label) "By The Mark" Recorded by Dailey & Vincent Produced by Jamie Dailey & Darrin Vincent, Rounder
EMERGING ARTIST OF THE YEAR Dailey & Vincent
INSTRUMENTAL PERFORMERS OF THE YEAR
FIDDLE PLAYER OF THE YEAR Michael Cleveland
DOBRO PLAYER OF THE YEAR Rob Ickes
GUITAR PLAYER OF THE YEAR Josh Williams
MANDOLIN PLAYER OF THE YEAR Adam Steffey
DISTINGUISHED ACHIEVEMENT AWARD RECIPIENT Bill Harrell
BEST LINER NOTES FOR RECORDED PROJECT (writer, album, artist, label) Gary Reid The Stanley Brothers: The Definitive Collection (1947-1966) The Stanley Brothers, Time Life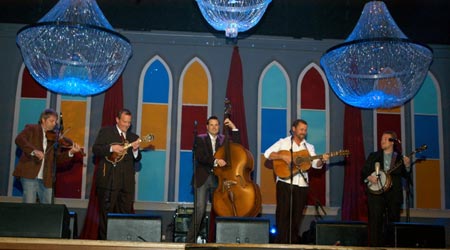 The Dan Tyminski Band performs during the IBMA Awards. (Photo by Alan Mayor)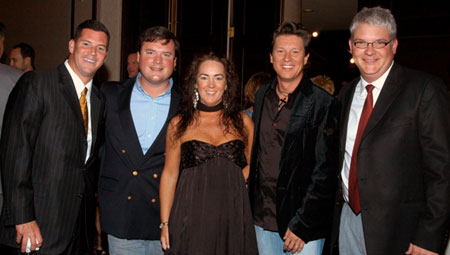 During the pre-awards party, nominees, legends, future hall-of-famers, and industry executives greet each other. Pictured are (l-r): BMI's Mark Mason, the CMA's Hank Adam Locklin, Jr., Garnet Bowman, Ronnie Bowman, and BMI's Perry Howard. (Photo by Alan Mayor)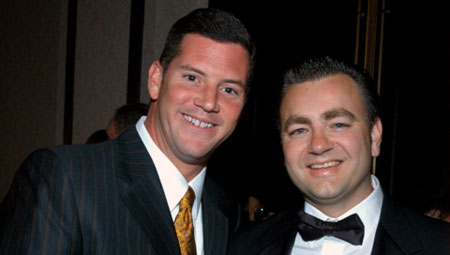 The Del McCoury Band's Ronnie McCoury (right) and BMI's Mark Mason (left) grin for the camera. (Photo by Alan Mayor)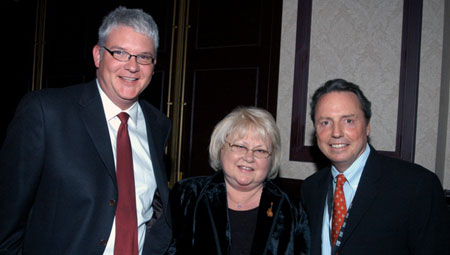 Accomplished songwriter and wife of recent Country Music Hall of Fame inductee Tom T. Hall Dixie Hall attends the IBMA Awards each year. Pictured are (l-r): BMI's Perry Howard, Dixie Hall, and BMI's Jody Williams. (Photo by Alan Mayor)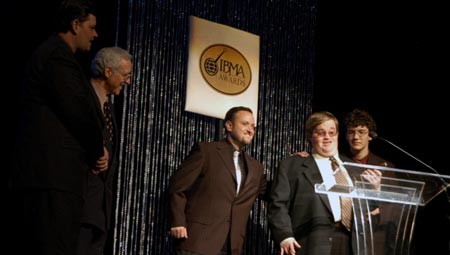 Michael Cleveland and Flamekeeper accept the trophy for Instrumental Group of the Year. (Photo by Alan Mayor)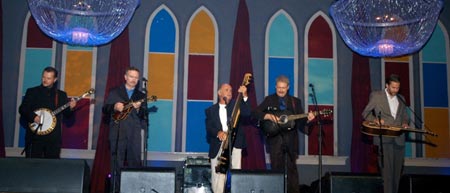 Virtuosic group Blue Highway performs. (Photo by Alan Mayor)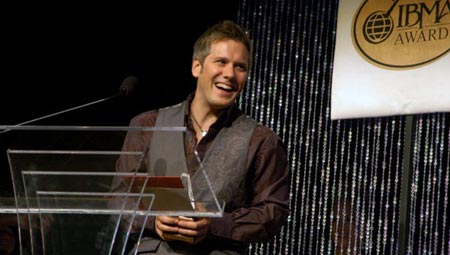 Andy Hall smiles as he receives Instrumental Album of the Year honors for his
Sound of the Slide Guitar
project. (Photo by Alan Mayor)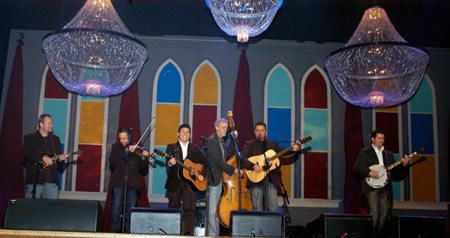 The Grascals take the stage at the Ryman. (Photo by Alan Mayor)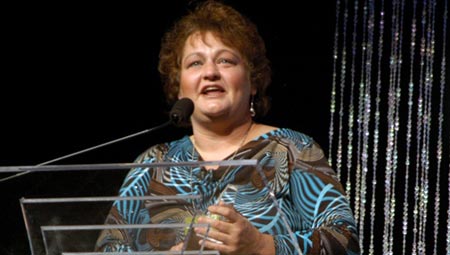 Dale Ann Bradley accepts her second consecutive Female Vocalist of the Year crown. (Photo by Alan Mayor)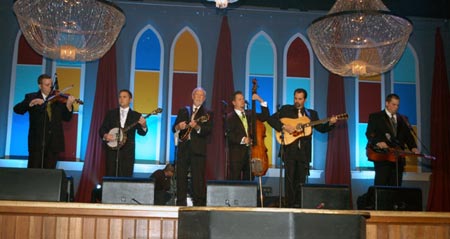 Favorites Doyle Lawson & Quicksilver peform. (Photo by Alan Mayor)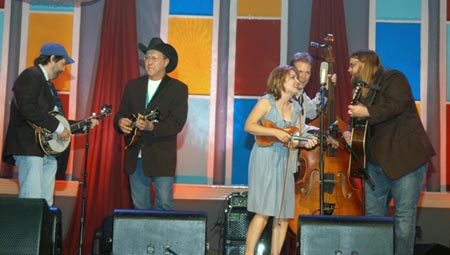 The Steeldrivers wow the audience. (Photo by Alan Mayor)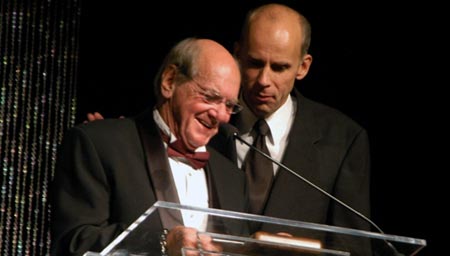 Bill Clifton officially enters the International Bluegrass Music Association Hall of Fame. (Photo by Alan Mayor)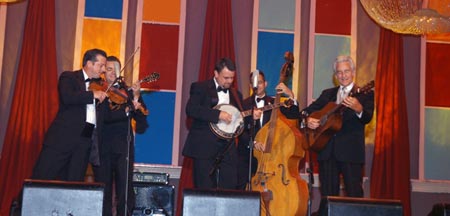 Host Del McCoury performs with his band. (Photo by Alan Mayor)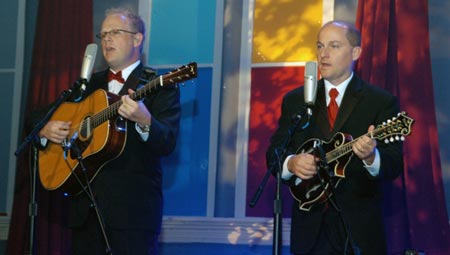 Duo Dailey & Vincent deliver a stirring rendition of their award-winning "By the Mark." (Photo by Alan Mayor)