Copyright Alliance Hosts Capitol Hill Reception
Members of Congress and congressional staff gathered at Capitol Hill restaurant Molly Malone's for a reception hosted by the Copyright Alliance. The event put the spotlight on the role of copyright in supporting the careers of singer/songwriters. Featured artist for the evening was BMI songwriter Gordon Daniels, leading his eclectic group Lucky Dub, who performed to repeated rounds of applause from the audience.
Copyright Alliance Executive Director Sandra Aistars conducted an on-stage interview with Daniels between sets, focusing on the development of new music by fresh voices in the music community. "It is a long and difficult road creatively to put together a first album," said Daniels. "If our songs can't be protected, I don't see how any of us can stay in the game."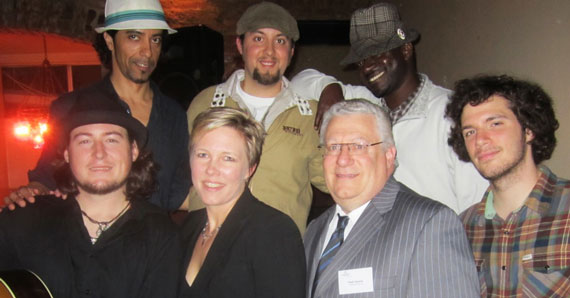 BMI Senior Vice President Government Affairs Fred Cannon said, "BMI was pleased to sponsor this event because it gave a group of legislators and Capitol Hill staff members a chance to hear some great music from a Washington, DC based ensemble, and to hear directly from them about the practical impact of legislation they work on."
The BMI-sponsored event was the first in a planned series by the Copyright Alliance. Future events will focus on the works of different types of creative people, including photographers and visual artists.
More info about this event is available on the blog of the Copyright Alliance.