Copyright Alliance Expo Spotlights Economic Impact
The Copyright Alliance hosted its third annual EXPOnential on November 17 on Capitol Hill, showcasing the new products and economic benefits of America's copyright industries. This year's event, "Live from Main Street: Copyright and the Local Economy," provided a platform for artists, trade associations and companies to exhibit creative work and discuss the future of copyright and its impact on local economies.
Attended by several prominent members of Congress, including House Judiciary Committee Chairman John Conyers (D-MI), the Expo included a panel discussion focusing on "Copyright, Innovation and the New Consumer Experience," which featured comments from House Judiciary Committee Ranking Member Lamar Smith (R-TX).
Exhibitors at the Expo included BMI, the National Music Publishers Association (NMPA) the Motion Picture Association of America (MPAA), the Graphic Artists Guild, the Entertainment software Association and the Recording Industry of America (RIAA), among others.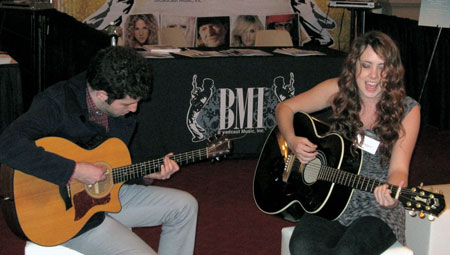 Margot MacDonald performs in the Copyright Alliance "Coffee Shop," accompanied by Jonathan Ifergan of Chicago band Color Radio. The Coffee Shop was part of the Copyright Alliance Expo held recently in D.C.
In addition to exhibitor booths, The Expo also featured a central "coffee shop," where D.C.-area BMI songwriter/artist Margot MacDonald, accompanied by Chicago-based Jonathan Ifergan, performed several of her compositions to an enthusiastic audience.
On November 16, a delegation of emerging artists in The Copyright Alliance's network of creators delivered to the White House a letter signed by more than 11,000 artists nationwide. The letter asks President Obama and Vice President Biden to pursue policies supportive of artists' rights. 
"On behalf of more than 11,000 creators of all kinds and from all 50 states, we are honored to deliver this letter, which simply asks that the Administration remember the importance of creators to our culture and our economy," said Lucinda Dugger, Director of Outreach Initiatives.
In addition to MacDonald and Ifergan, the delegation included Chad Cameron, an illustrator from San Francisco; and Natalie Neckyfarow, an actress from Charlotte currently living and working in New York City. 
The artists met with key personnel on technology and the arts in the White House Office of Public Engagement.
Visit the Copyright Alliance to read more about this event and other key copyright initiatives.