Composer Jermaine Stegall on Scoring "Coming 2 America" During Pandemic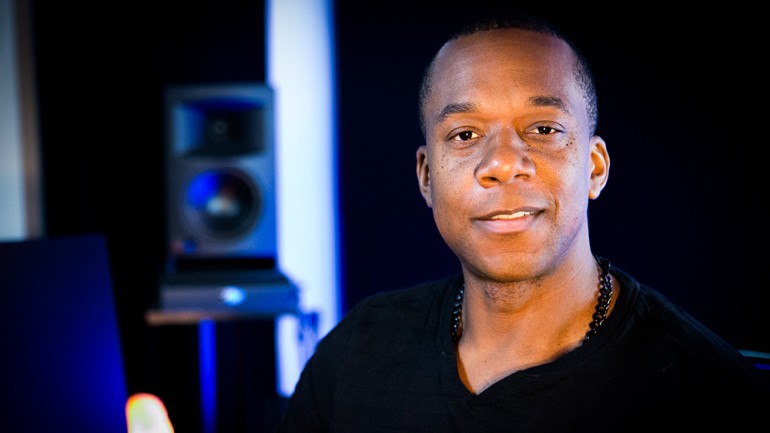 The year 2020 was challenging for many artists. During this unprecedented time, composer and conductor Jermaine Stegall navigated scoring one of the most highly anticipated movies of the year, Craig Brewer's Coming 2 America, the sequel to the 1988 hit film, Coming to America. Beyond that, Stegall also scored projects for Lucasfilm and Netflix, managing overlapping schedules, holding mixing sessions over Zoom, and giving notes over the phone.
Stegall, who started playing saxophone in grade school, developed a love for film — and film scores — growing up in Joliet, Ill. He studied music at Northern Illinois University, where his interest in composition inspired him to write music in addition to studying saxophone performance. He received his master's in Music Composition from the University of North Texas and subsequently completed USC's prestigious Scoring for Motion Pictures and Television program. He then pursued working on film and television projects, starting as an intern on Marco Beltrami's I, Robot and working alongside some of Hollywood's most well-known composers.
BMI caught up with Stegall to learn more about his experience working on Coming 2 America, how participating in workshops has impacted his own creative process, and what advice he'd give to young composers starting out in the industry.
You recently composed and conducted the score for Craig Brewer's highly anticipated Coming 2 America. What was it like, working on the sequel to such an iconic and beloved film, Coming to America?
It actually ended up being much more of an adventure than I could've ever imagined! I couldn't be more grateful for what we were able to pull off and it has been such a gift in terms of something to focus on outside of the pandemic.
You were encouraged to weave elements of the score BMI songwriter Nile Rodgers created for the original Coming To America back in 1988. How did you accomplish that?
I sure was encouraged. It was my first sequel and, actually, that was something I suggested to help audiences that were fans of the first film connect. I just wasn't sure at first how to go about it — turns out the idea was more than welcomed! There are a few scenes where I felt the audience deserve a wink and a nod. Whether it be Akeem's character running down the street, being banished from his own bedroom, or the first time he meets his long-lost son, I mainly stated the 1988 Coming to America song's theme, either melodically or rhythmically. It's pretty much always stated with a different instrument as well, sometimes with trumpet, sometimes with kalimba, or strings. We all felt that it helped with the overall fun spirit of the film.
BMI composer Joshua Mosley was also part of your music team on Coming 2 America. Tell us how that came about.
Yes, Josh has become a really great friend of mine, and we've also worked alongside other composers doing programming over the years as our own careers have taken shape. We've been looking for a project to be connected through and since we both speak the language of synth programmer, I thought that maybe he could sprinkle some extra flavor into the production of the score to help keep things fresh.
Early in your career you worked as an intern with Marco Beltrami on the film I, Robot. What did you learn from this experience that helped you land your own work composing film and television projects?
I think the first mock-up that Marco played for the orchestration team taught me the importance of using gear — synths, or whatever you want to call it — primarily to tell the story of "the orchestra." Just about everything that was mocked up aside from musical sound FX was orchestral and all of it would be replaced. The mock-ups seemed kind of alive and tracked perfectly with the drama. There was absolutely no doubt what the story points were; listening to the samples give a "performance" of the cue back in 2004.
Orchestral samples were so different back then but you knew exactly how things would translate. He also made very specific choices about which cues were assigned to the specific orchestrators on the team. With Coming 2 America, I also had BMI composer William Ross involved as an orchestrator and there were very specific cues that I wanted to make sure he was assigned because of what I love so much about him as an artist.
You then went on to collaborate with some of the industry's most well-known composers, such as Harry Gregson-Williams and Danny Elfman. How would you recommend young composers build relationships with composers or identify mentors early on in their careers?
I say the first thing, really, is do your research and have a passion. At least, that was my way of being effective. I was such an appreciator of most of the composers I've worked with as artists, that whenever their names came up, I knew and cared a lot about their specific musical choices or something specific to them as a composer. I always wanted to come from a place of being in service to the composer that I worked for. Over time, you learn by watching them become comfortable around you just being themselves.
In addition to your film and television work, you've recently been working on a digital series (Our Star Wars Stories) for Lucasfilm and an animated short for Pixar (Canvas). How has the COVID-19 pandemic affected your ability to work and collaborate with other musicians and composers? Can you share a little about your creative process?
Actually, Canvas is a Netflix original film. Frank Abney III is an animator and director that worked for Pixar for many years. We were actually supposed to do our final dub for Canvas at Skywalker Sound [a division of Lucasfilm] last summer in person. We had it on the schedule about three weeks after the Covid shutdowns, and had to mix over Zoom and give phone notes as well. There were only two personnel that would be allowed on the mix stage at a time so it had to be a socially distant/virtual mix.
With the digital series Our Star Wars Stories for Lucasfilm, it was planned that we would release 12 episodes during our second season as opposed to five [for] the previous season. After our third episode went live, we had to stop production completely for about two months until the team figured out a way to send a mobile rig to each interviewee and walk them through how to use the gear to get the episode filmed. We resumed production on that at the same time of prepping to score Coming 2 America, which was definitely interesting!
One unfortunate part of the recording process is that [Coming 2 America] director Craig Brewer wasn't allowed to attend the scoring session at Fox, nor were our music editors. We had to use Zoom and Source Connect, which was definitely a snag in the process of working closely. All things considered, we were able to get the job done with a really nice result! Additionally, all of our bass, drums, guitar, harp, organ woodwinds and vocals had to be recorded at homes of the players. I ended up singing the mock-ups for the choir to make sure we knew exactly what we'd be going for since their vocals would be recorded while I was at the orchestra sessions at Fox.
How has participating in workshops like the Sundance Composer Lab or the BMI Conducting Workshop impacted the way you work?
The BMI conducting workshop elevated the confidence level of being in front of a large ensemble and improved clarity within my conducting pattern pretty much right away. From the early beginnings, I've always loved conducting and the idea of helping shape the recording process. And, really, that's what we're doing — we're attempting to get the best recording possible.
The Sundance Composer and Sound Design lab was most attractive initially because of its location. Before Covid — and hopefully after as well — the labs have recently been held at the mind-blowing post production facility we know as Skywalker Ranch. When we were there we were encouraged to return with projects to record and do post on, so I've used their scoring stages several times and brought back several projects to actually do the final dub as well. We worked closely with veteran sound designers of our industry while we were there, which heightened the importance of being considerate with sound and the sonic space while composing music.
What are you working on now?
Right now I'm working on a supernatural thriller for Universal. It should be a pretty noticeable departure from a lot of my recent work, where I've mainly been focused on the sweeping family/orchestral writing. This one will be more experimental and intense.
When did you start working with BMI, and how has it impacted your career?
I started working with BMI around 2004 after receiving a BMI endowed acknowledgement for outstanding composition while I was attending USC's film scoring program. It's actually had quite a nice impact on my career and, somehow, outside of the resources and having them help sustain our stay in Los Angeles over the past 18 years, there has actually been quite a bit of check-in and advice along the way. I've had regular meetings with the folks there as I've pursued projects at the independent level and also learning opportunities through timely programs such as the BMI Conducting Workshop and the Sundance Composer Lab.
Those moments in my life happened after I'd been in this industry for close to 12 years, so they became events in my life that helped me achieve tangible elevation and see a career that was starting to take shape and direction.