Carlos Santana Honored by BMI Board of Directors at NAB Convention
Songwriters Paul Anka, Mike Stoller, Ronnie Dunn and Lauren Christy also recognized during 64th annual dinner
The BMI Board of Directors celebrated the incredible career of BMI legend Carlos Santana at its annual dinner, held Tuesday, April 17 during the National Association of Broadcasters (NAB) convention in Las Vegas.
The BMI Board presented a special citation to Santana, honoring his "gift of brilliant music that has thrilled audiences in millions of performances on radio, television, recordings, acclaimed film scores and extraordinary live performances from Woodstock to Live Aid, and from celebrated clubs to sold out stadiums across America, and around the world."
Top-drawer BMI songwriters Paul Anka, Mike Stoller, Ronnie Dunn and Lauren Christy also attended the event, and were recognized for their immense contributions to music.
Long before "world music" was a destination at search engines across the globe – or was even a genre, for that matter – Carlos Santana and the band that bears his name were laying down the tracks that would bring homegrown electric American music to the four corners of the earth. Santana released their landmark debut in 1969. When Top 40 radio discovered "Evil Ways" in early 1970, the album jumped to No. 4, on its way to double-platinum and the No. 150 spot on Rolling Stone magazine's "500 Greatest Albums" list.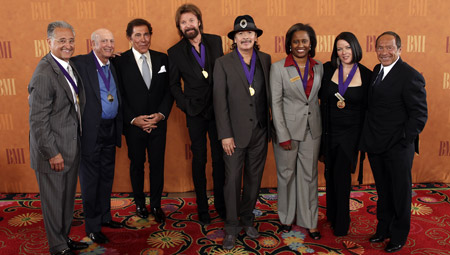 Pictured at BMI's 64th annual NAB dinner in Las Vegas are BMI President & CEO Del Bryant; Mike Stoller; Steve Wynn, Co-Founder, Chairman and CEO of Wynn Resorts; Ronnie Dunn; Carlos Santana; Susan Davenport Austin, Chairman of the BMI Board of Directors and Senior Vice President and Chief Financial Officer of Sheridan Broadcasting Corporation and President of the Sheridan Gospel Network; Lauren Christy; and Paul Anka.
Photo: Randall Michelson
The debut's success was eclipsed at the end of 1970, when "Oye Como Va" and "Black Magic Woman" sent Abraxas to No. 1 for six weeks; the Grammy Hall of Fame album has sold more than five million copies to date in the U.S. alone. 1971's Santana III spent five weeks at No. 1 and brought a third consecutive multi-platinum award.
When Supernatural was released in 1999, it was the beginning of an industry phenomenon, 15-times RIAA platinum in the U.S. alone, nearly double that number of sales globally, the No. 6 best-selling album in SoundScan history. Supernatural was a hard act to follow – but 2002's Shaman gave Santana a second consecutive No. 1 multi-platinum album. Third in this series of collaborative albums was 2005's All That I Am, which entered SoundScan at No. 2. Santana released the acclaimed Guitar Heaven: The Greatest Guitar Classics of All Time in 2010. He will release his 36th album, Shape Shifter, on May 15 of this year.
Carlos Santana was inducted into the Rock and Roll Hall of Fame in 1998 and honored as a BMI Icon in 2005.