BMI Visited by 'Songwriter to Watch' Rob. A
BMI's Los Angeles office received a visit Thursday, October 2 from BMI songwriter Robert "Rob. A" Allen, recently named one of the "Urban Songwriters to Watch" in the October 4 issue of Billboard.
Rob. A is part of the Los Angeles songwriting and production collective Graffiti, a creative hive similar to Atlanta's hit-making team The Clutch. A growing force in the contemporary music world, Rob. A has co-penned recent smashes including Rihanna's dance-pop hit "Disturbia" and Chris Brown's "Forever" - both Top 10 on the Billboard Pop charts. Together, Graffiti are currently working on songs for the Jonas Brothers, Britney Spears, Mario, Chris Brown, Brandy and others.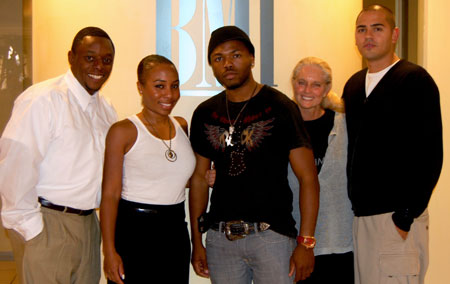 Shown are (l-r): BMI's Malik Levy and Nicole Plantin, Rob. A, BMI's Barbara Cane and Sony/ATV's Vice President, Urban A&R Juan Madrid.