BMI Trailblazers Awards Special Premieres on Gospel Music Channel Feb. 21
The Gospel Music Channel (GMC) will broadcast the world premiere of the BMI Trailblazers Awards Tribute to Donnie McClurkin & Andraé Crouch on Sunday, February 21 at 8:00 p.m. EST. The special was recorded live during the 11th Annual BMI Trailblazers of Gospel Music Awards Luncheon held Friday, January 15 in Nashville. Hosted by Catherine Brewton, BMI Vice President, Writer/Publisher Relations, the intimate ceremony served as a dynamic jump-start for the 2010 Stellar Awards weekend, honoring pioneers Donnie McClurkin and Andraé Crouch. The GMC special features exclusive footage of the event's all-star musical tributes to McClurkin and Crouch.
Byron Cage hosts the tribute to McClurkin, which features inspired live performances by gospel powerhouses including Latice Crawford, Micah Stampley, Pastor Marvin Winans, and Yolanda Adams, who is joined by McClurkin for a rousing rendition of "We Fall Down." Adams then hosts the musical homage to Crouch. Spine-tingling performances are delivered by stars including Adams, BeBe Winans, CeCe Winans, TaTa Vega, Mary Mary, Pastor Marvin Winans, and Dorinda Clark Cole.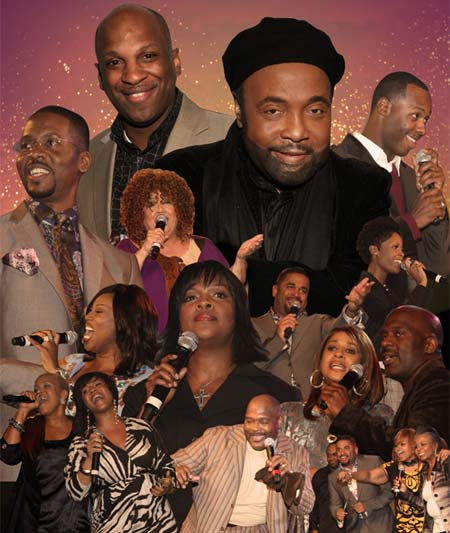 In addition to airing on Sunday, February 21 at 8 p.m. EST, the special will be rebroadcast on Sunday, February 21 at 10 p.m. EST and Monday, February 22 at 12:00 a.m. EST.
The Gospel Music Channel is available nationally on DIRECTV Channel 338 and via many local cable providers. To check the Gospel Music Channel's availability in your area, please visit www.gospelmusicchannel.com/get-channel.
A devoted pupil of gospel legends, Donnie McClurkin has done more than admire the giants: He has become one himself. The two-time Grammy winner is one of the genre's finest producers, beloved vocalists, and most inspiring communicators. A discerning songwriter, he has composed a rich catalog of worship songs, including BMI Christian Award winners "I'm Walking" and "That's What I Believe," while he has also collected a trove of Dove, Stellar and other prestigious honors, including the NAACP Image Award for Outstanding Gospel Artist. He released a critically acclaimed new collection entitled We Are All One (Live in Detroit) in March 2009, and in addition to garnering a 2010 Stellar Award nomination for Traditional Male of the Year, he will co-host the Stellar Awards ceremony with fellow BMI trendsetters Kirk Franklin and Vickie Winans. For McClurkin, being honored alongside the genre-shaping Andraé Crouch is a deeply personal accomplishment: He fondly refers to Crouch as his mentor.
Eight-time Grammy winner Andraé Crouch is a definitive pioneer. One of the most influential molders of contemporary gospel music, Crouch combines the power of the traditional with the immediacy of the contemporary. His work with The Disciples and later, as a solo artist, is legendary, and as a songwriter, he is behind classics, including  "The Blood Will Never Lose Its Power," "Through It All," "Bless His Holy Name," and "My Tribute," which has been performed by more than 600 artists all over the world. He has collected a host of Dove and Stellar Awards. In addition to working with pop icons including Madonna, Diana Ross, and Elton John, Crouch contributed songs to films including The Color Purple and The Lion King. The vocal arranger for Michael Jackson's smash "Man in the Mirror" and the star's Invincible album, Crouch also penned "You Will Be There," featured in the film Free Willy. A member of the Gospel Music Hall of Fame, he became the only living gospel artist to earn a star on the Hollywood Walk of Fame in 2004, and the following year, he received the Lifetime Achievement Award at the inaugural NARAS Salute to Gospel Music.
About the Gospel Music Channel
Gospel Music Channel (GMC) is the nation's first and only 24/7 television network devoted to the uplifting, inspiring and diverse music that is Gospel/Christian music. Gospel Music Channel is the fastest-growing network in television today and can be seen in nearly 40 million homes on various cable systems around the country and on DIRECTV. www.gospelmusicchannel.com