BMI to Showcase Rock, Indie Sounds at SXSW
BMI has partnered with South by Southwest (SXSW) Music Festival to provide back-to-back days of music, which will highlight a different sound each night. On Wednesday, March 13, Bar 96, 96 Rainey Street in Austin, is the place to be. BMI's Rock/Indie showcase sponsored by SynchTank will feature a buzz-worthy mix of artists and bands so profound in their musical statements that you are sure to stand up and take notice. Show starts at 7:45 p.m. and is open to badge holders 21+
BMI has partnered with South by Southwest (SXSW) Music Festival to provide back-to-back days of music, which will highlight a different sound each night. On Wednesday, March 13, Bar 96, 96 Rainey Street in Austin, is the place to be. BMI's Rock/Indie showcase sponsored by SynchTank will feature a buzz-worthy mix of artists and bands so profound in their musical statements that you are sure to stand up and take notice. Show starts at 7:45 p.m. and is open to badge holders 21+
Line-up includes:
ONE Vs All at 7:45 p.m. - 8:00 p.m.
KTBC/FOX 7's "My Band Rocks" Teen Band Competition Winner
This 28-year-old classically trained musician spent most of last year traveling and playing keyboards in the Peacocks, the all-female backing band Jack White used on his Blunderbuss tour. But after a full year appearing with the Peacocks everywhere from "SNL" to festival stages all over the world, Waggoner still managed to work on her third full-length album Originator. The album is an 11-song collection centering on Waggoner's piano playing and evocative vocals with songwriting that is straightforward, dynamic and not to be missed.
Wild Cub at 9:00 p.m. - 9:40 p.m.
Wild Cub made an impactful debut on the 2012 BMI Bonnaroo stage and they haven't had time to look back. Experimenting with rhythm, layers and sound, the synth-y duo has since released their Youth album in both the US and UK, which has been met with welcoming arms. Dive into their meticulously crafted music and expect to hear much more about this booming band soon.
Wake Owl at 10:00 p.m. – 10:40 p.m.
Pacific Northwester Colyn Cameron of Wake Owl is no stranger to the indie music scene. With over a decade's worth of experience, the singer-songwriter originated in the world of hip hop, which later transformed into melodic guitar playing and songwriting. After working on farms around the world (Germany, Chile and the UK to name a few), Colyn found inspiration to capture his journeys in music. Listen to his debut EP Wild Country to be transported into the world of Wake Owl.
Royal Teeth at 11:00 p.m. - 11:40 p.m.
Six-person New Orleans-based group Royal Teeth creates some of the catchiest tunes in the indie market. With upbeat guitar licks and active percussion, the band strikes a fine balance between pop and electro. Their 2012 EP Act Naturally, featuring ear-pleasing harmonics and masterfully constructed tracks, sets the stage for an inevitably successful career. Stay tuned for their debut full-length coming out later this year.
Mixing blues, folk and rock with a country twist, it's impossible to pin Nightmare and The Cat into one genre. With one listen to their self-titled EP, the five-member group's dexterity and talent shines. They're charismatic and groovy, and a must-hear for 2013. Expect their debut album to emerge on Capitol Records later this year.
Coin at 1:00 a.m. - 1:40 a.m.
COIN's songs burst with positive energy. Leaning towards synth pop, this four-piece indie group infuses catchy bass and layered instrumentation for the ultimate party music. Although they're newly formed, this talented bunch will undoubtedly make a splash this upcoming year—and we can't wait.
BMI is hosting other key events throughout SXSW 2013, including panels and showcases highlighting the talent and expertise of BMI affiliates and executives. See more information on BMI happenings at SXSW.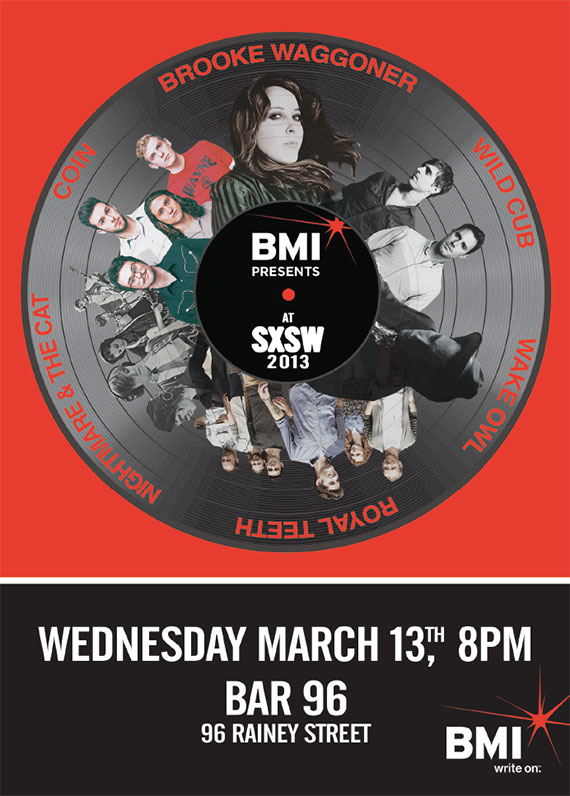 Listen on Spotify