BMI to Present Annual 'How I Wrote That Song' Panel Featuring Top Hitmakers
Songwriters Liz Rose, Stevie J, Jerry Wonda, Bilal 'The Chef' Hajji and more scheduled to speak at The Roxy February 13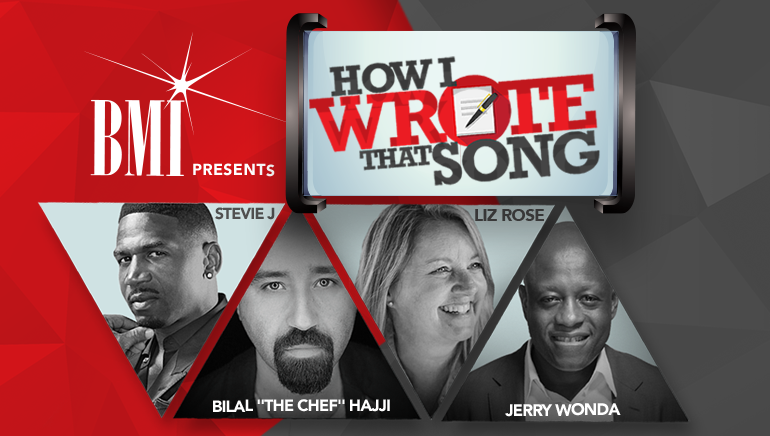 BMI is pleased to announce its GRAMMY-infused "How I Wrote That Song"® event slated for February 13 at The Roxy in West Hollywood. Moderated by BMI Vice President, Writer/Publisher Relations, Catherine Brewton, the panel features some GRAMMY Award-winning and nominated heavyweights including Liz Rose, Stevie J, Jerry 'Wonda' Duplessis, and Bilal 'The Chef' Hajji, with more special guests to be announced. This insightful panel starts at 12:30PM and will reveal the stories behind your favorite Country, R&B, and Pop hits. Tickets are $20 in advance/$25 day of show and is open to all members of the public.
BMI's "How I Wrote That Song"® is an annual pre-GRAMMY weekend event that celebrates GRAMMY winners and nominees, and serves as a platform for panelists to discuss the process of writing, producing and performing hit songs. Previous panelists have included Snoop Dogg, Busta Rhymes, Nas, will.i.am, RedOne, Zac Brown, Cee Lo Green, B.o.B, Kara DioGuardi, Seal, Luke Laird, Claude Kelly, John Legend, Wiz Khalifa, Charlie Wilson, Alex Da Kid, Dallas Davidson, Common, Colbie Caillat, Linda Perry, Salaam Remi, Rev Run, RZA, The Madden Brothers and more. Click here to view a brief reel of previous panels.
Meet the Panelists:
Liz Rose
Liz Rose has worked with many of country music's finest artists including Tim McGraw, Hunter Hayes, and Taylor Swift. Co-writing a total of 16 songs together, Rose and Swift dominated the charts with No.1 hits like "You Belong with Me" and "White Horse." Already a GRAMMY Award-winning songwriter for her work with Swift, this year Rose has done it again with a nomination for "Song of The Year" for her megahit, "Girl Crush," performed by country superstars Big Little Town.
Stevie J
Stevie J is a three-time GRAMMY Award-winning songwriter and producer best known as one of The Hitmen from Bad Boy Records. At their peak, The Hitmen dominated R&B and Hip-Hop in the '90s, working with P. Diddy, Notorious B.I.G, Mariah Carey, Faith Evans, and more. Stevie J received a GRAMMY for P. Diddy's No Way Out album, which famously tributes the late Notorious B.I.G on "I'll Be Missing You." Now a TV personality on VH1's Love & Hip Hop Atlanta, Stevie J still produces music for artists like Snoop Dogg and Faith Evans.
Jerry 'Wonda' Duplessis
Over the course of his 22-year career as a producer, Jerry 'Wonda' has worked with the best of the best including Michael Jackson, Shakira, The Fugees, Carlos Santana, Lady Gaga, Kanye West, and many more. Early in his career, Wonda co-produced The Fugees' sophomore album, The Score, which went platinum and is still one of the best-selling Hip-Hop albums of all time, and co-produced Carlos Santana's album, Supernatural, resulting in 15 million copies sold nationwide and eight GRAMMY awards. This success became the foundation for Platinum Sound, a collaborative studio started with Wonda's cousin and superstar Wyclef Jean. Together they produced hit tracks like "Hips Don't Lie," with Shakira and more. Wonda recently opened his new studio, Wonda Music, which provides a creative and collaborative space for artists and songwriters.
Bilal 'The Chef' Hajji
Known as the 'The Chef,' Bilal Hajji is based in Sweden working and writing with chart-topping artists like Lady Gaga, Jennifer Lopez, Nicki Minaj, One Direction, Pitbull, and many more. Starting off strong, Hajji's first released song, "Step Up" by the Scandinavian pop singer, Darin, went to #1 in Sweden for 9 weeks. This catapulted his career as a songwriter, collaborating and producing music for artists across many genres from the Backstreet Boys to Sean Kingston, as well as Enrique Iglesias and Lil Jon.
Tickets are available online now; please click here for details.
For up-to-date information on BMI and "How I Wrote That Song," follow us on Twitter @BMI and keep up with #BMIHIWTS to be a part of the conversation.