BMI To Co-Sponsor 'Girls Night Out' Showcase
BMI joins The NJ Songwriters in the Round to present "Girls Night Out," an intimate showcase of female songwriters sharing their songs on Wednesday, November 12 at 7:00 p.m. at Arlene's Grocery (95 Stanton Street, NYC). A diverse line-up of burgeoning songwriters will perform at the lauded semi-annual showcase that supports original music from serious wordsmiths. NJ Songwriters in the Round founder, songwriter/producer Deb Ferrara, whose credits include MTV's Made and The Hills, will host the event. The showcase is free to the public.
"Girl's Night Out" will provide a mesh of pop, rock and country sounds from a bevy of talented ingénues, including New York-based Windrift Songwriting Competition winner Julia Brown; rock, folk wrangler and tri-state favorite Kathy Phillips; Song of the Year contest winner Lori Lampkin; Apollo Amateur Night winners, duo Kristina Con Vita; Asbury Park multiple award-winner Christine Martucci; and 14-year-old pop singer/songwriter K.T. Bell.
Now in its 6th year, the NJ Songwriters in the Round regular monthly event takes place every third Tuesday at Maxwell's in Hoboken. Known for featuring the most promising up-and-coming songwriters from across the country and beyond, the organization regularly presents educational and networking events as well as charity concerts and auctions. For more information on the NJ Songwriters in the Round, including event and showcase submission information, visit www.myspace.com/njsongwritersintheround.
About the performers:
Julia Brown: Strange Scars, Julia's second independent release, is a collection of intense, personal reflections on turbulent emotional landscapes, featuring intelligent lyrics wrapped in dark singer/songwriter pop. A Virginian native, Brown's songs have been featured on several prime time MTV television shows. http://juliabrown.com/

Julia Brown
Kathy Phillips: Garnering rave reviews for her two CDs, Sway and Carries You Away, has opened doors for Kathy, who has had several placements on MTV. Her latest collaboration, "I Wanna Feel Good" with Anthony Krizan (Spin Doctors, Lenny Kravitz), just received placement in upcoming feature film Wake, starring Jane Seymour and Danny Masterson. http://www.kathyphillips.com/news/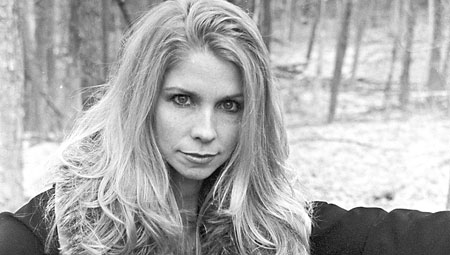 Kathy Phillips
Lori Lampkin: Lori's current CD, That Place, boasts an enticing mix of country, soul and blues sounds, infused with a style that is unmistakably her own. Having won awards for her songwriting from the Song of the Year competition and picked as one of the top country artists in NJ during the 2007 Colgate Country Showdown in Atlantic City, Lampkins is an extraordinary talent to watch. http://www.lorilampkin.com/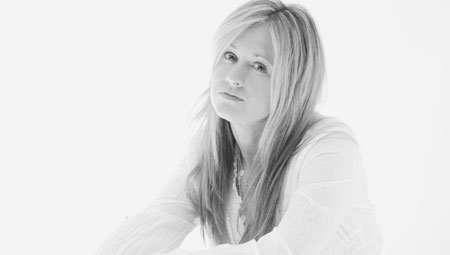 Lori Lampkin
Chistina Matucci: NJ singer/songwriter Christine Martucci is the winner of the 2004 Asbury Park music award for Top Female Vocalist and 2007 award for Top Local Release. Martucci's second album, I'm All In, has received rousing reviews and was featured as the editor's pick in the August 2007 issue of Curve magazine. http://www.myspace.com/christinemartucci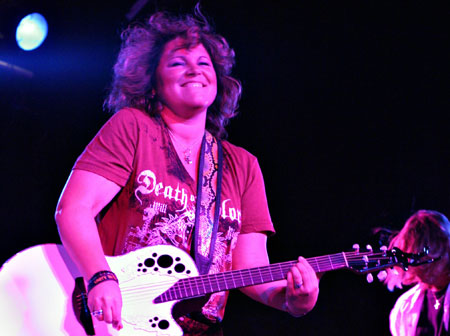 Christina Matucci
Kristina Con Vita: Apollo Amateur Night champs, duo Kristina Con Vita have created a unique sound with their opposing backgrounds and styles of singing. The girls won first place in the 2007 GoGirls Songwriting Competition with the original song "In Between," performed by their full band, KRAVE. That same year KRAVE was voted best band by The Music Aid organization (http://www.musicaid.org). http://www.kristinaconvita.com/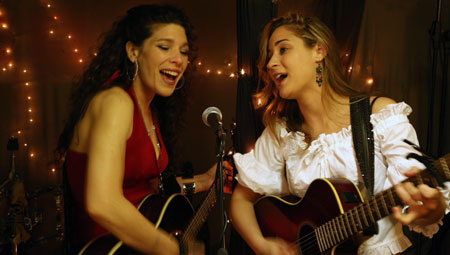 Kristina Con Vita
K.T. Bell: Ms. Bell is a 14-year old pop singer/songwriter with the voice of an angel. K.T. is currently working with 901 Music Productions.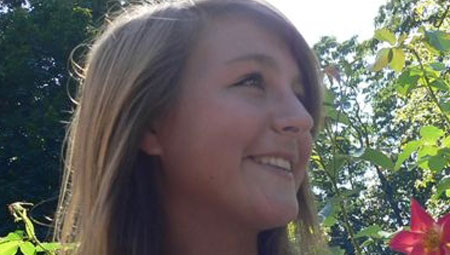 K.T. Bell