BMI Sponsors Latin Music Program
BMI joined The Latin Recording Academy on Monday, October 29 in presenting a Latin Grammy in the Schools event, held at the Celia Cruz Bronx High School of Music. BMI writer and Latin hip-hop artist Notch joined panelists Anais (Salsa Singer), Johnny Pacheco (Salsa Legend), Xtreme (Bachata Group), and Porfirio Piña (BMI) in an outreach program that has reached 15,000 students from more than 11 countries.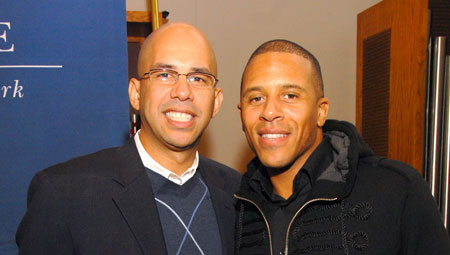 (l-r): BMI's Porfirio Piña and Machete Music artist Notch.
Latin Grammy in the Schools is an educational and cultural initiative with the support of Washington Mutual Bank in an effort to give students the opportunity to talk face to face with experts from the music industry. The program's goal is to educate students about the Latin recording industry's challenges and opportunities, giving them insight as to what it is like to work in the business and what it takes to be successful in the field.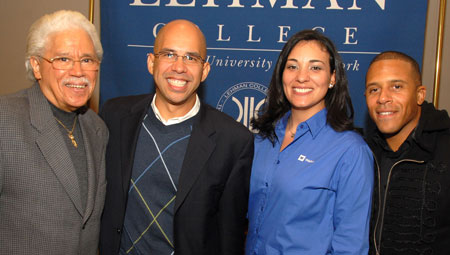 (l-r): Salsa legend Johnny Pacheco, BMI's Porfirio Piña, Washington Mutual's Jhoselin Fernandez and Machete Music artist Notch.
Created in 1997, The Latin Academy of Recording Arts and Sciences, Inc. is led by an independent Board of Trustees consisting of highly accomplished Latin music and entertainment industry professionals. The international membership-based organization comprises Spanish and Portuguese recording artists, musicians, songwriters and producers, as well as other creative and technical recording professionals.