The Jacques Initiative - BMI Sponsors Concert Series for a Good Cause
BMI teamed up with the Songwriters Association of Washington and the Baltimore Songwriter Association on October 10 to present the first in a series of four Courtyard Concerts to help raise awareness for the Institute of Human Virology 's Jacques Initiative. Attendees at the event, held at the University of Maryland Medical Center's Baltimore campus, were treated to performances from Victoria Vox and BMI singer/songwriters Bob Sima and Susan Souza. In addition, Jacques staff distributed educational materials and conducted free HIV testing. A member of the IHV Board of Advisors, BMI Senior Vice President, Government Relations Fred Cannon linked the organizations to assist in getting the word out about the Initiative, which was developed to create better outcomes for patients living with HIV/AIDS.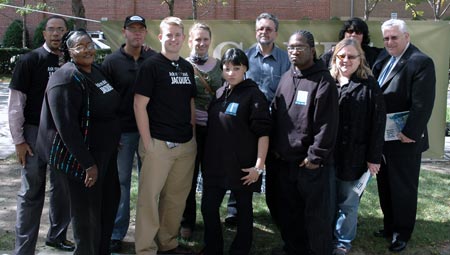 shown back row (l-r): Derek Spencer; BMI songwriter Bob Sima; songwriter Victoria Vox; SAW and BMI Consultant Rob Goad; BMI songwriter Susan Souza; and BMI's Fred Cannon. Front row (l-r): Kathy Bennett; Jacques Initiative's Jeff Weaver; two patients of the Jacques Initiative; and SAW's President Jean Bayou
"I am delighted that through Broadcast Music, Inc. [BMI], I was able to bring together the local songwriter members of the Baltimore Songwriters Association and the Songwriters Association of Washington to participate in educating the Baltimore community about the Jacques Initiative through Courtyard Concerts," said Cannon.
Cannon continued, "The response to my call to the songwriting community to support the Jaques Initiative has been amazing. Many of the area's best songwriters have volunteered their time to promote this wonderful initiative, which gives hope of a normal life for those infected with AIDs. It is imperative that we educate the local community about this important program.
"BMI and the songwriting organizations will continue to promote the Institute of Human Virology's Jaques Initiative with planned concerts in the spring. It is an honor for all of us to be part of this project and we thank all the folks at the University of Maryland- Baltimore and the Institute of Human Virology for their support and vision to educate the community through talented songwriters, said Cannon."
In 2002, IHV was awarded $400,000 from The Abell Foundation to kick off the Jacques Initiative national pilot program. Today, with additional funding from the Maryland AIDS Administration, the Jacques Initiative is open to all HIV patients who are newly diagnosed and just beginning treatment, built around the philosophy that it's difficult for anyone to remember to take any medication 95% of the time. As such, the program pairs HIV-positive patients (approximately 400) with healthcare providers in the clinic or with family, friends or other HIV patients who've been successful at managing a rigorous treatment plan.
"I am very grateful to Fred Cannon and the artists who participated in the Courtyard Concert Series," said Derek E. Spencer MS CRNP, Executive Director of the Jacques Initiative. "The epidemic of HIV in our community is great and it will take an equally great and concerted effort to control the spread of HIV in our communities. Having IHV Board of Advisor member Fred Cannon's support was a great way to partner around this issue. We look forward to future projects."