BMI Sponsors 2nd Annual Mucklewain Music Festival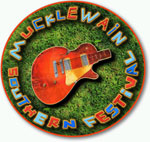 BMI is proud to sponsor the second annual Mucklewain Music Festival September 28 & 29. Held in Pinewood, Tennessee, 45 miles west of Nashville, the event basks in the ample glow of southern art, music and culture.
A lineup including BMI roots artists Todd Snider, Blue Mountain, Jason Isbell, Will Hoge, Garrison Starr, Drivin' n Cryin', Bobby Bare Jr., Dash Rip Rock, Trent Summar, The Carter Administration, Glossary, Dixie Dirt and Malcolm Holcombe will treat crowds an onslaught of non-stop live music. Mucklewain will also host an art tent displaying the work of southern artists.
Garrison Starr
Todd Snider
Jason Isbell
Camping sites are available for those who yearn for a more agrestic experience. Tickets are $48 in advance, $60 at the gates. To purchase tickets, view the entire lineup, plus a schedule of events and more, please visit mucklewain.com.