BMI Reports Increased Revenues for 2010
BMI has announced that it generated more than $917 million in revenues for its 2010 fiscal year ended June 30, including its subsidiary Landmark Digital Services®, LLC. The company also announced distributable royalties of more than $789 million for the songwriters, composers and copyright owners it represents. With more than 475,000 songwriters, composers and music publisher affiliates, BMI is the world's largest music copyright organization.
BMI's long-term focus on revenue diversity yielded a $30 million increase in revenues from New Media, cable and satellite audio and video programming services. These gains more than offset a decline in radio and television license fees and adverse movement in foreign exchange rates during the January-June period.
BMI's repertoire increased its market share both at home and around the world thanks to the phenomenal talent of BMI songwriters. Runaway global success stories include Lady Gaga, The Black Eyed Peas, Colbie Caillat, Ke$ha, Drake and Pink. U.S. charts were topped by a string of self-penned hits from songwriter/artists including Taylor Swift, Kid Rock, Rihanna, Toby Keith, Keith Urban, Lil Wayne and T-Pain, as well as breakout hits from such newcomers as the Zac Brown Band, Trey Songz, B.o.B., Nicki Minaj and Jason Derülo. These top contemporary artists combined with the perpetual appeal of BMI's comprehensive roster of musical icons like Willie Nelson, Paul Simon, Sting, Eminem, Elton John, the late Michael Jackson, Latin superstars Gloria Estefan, Carlos Santana, Juanes and Shakira, and film composers Danny Elfman and John Williams.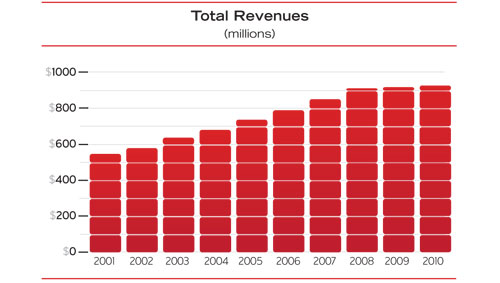 The revenue increase in the just concluded fiscal year caps a decade in which BMI's revenues have increased by 70% and royalty distributions by 75%, while the overhead rate was reduced by almost 15%. Said BMI President & CEO Del Bryant, "Our ability to expand market share, develop and execute strategies to grasp new licensing opportunities, diversify revenues, and develop industry-leading technology solutions has enabled BMI to maintain strong royalty distributions and be a rare island of stability for our songwriters, composers and music publishers in a fast-changing industry and tumultuous economy."