BMI Presents Producer/Songwriter Panel During 2008 Atlantis Music Conference in Atlanta
Discussion Slated for September 18 in Midtown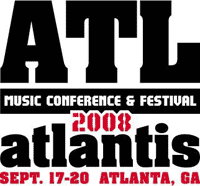 BMI will take part in the 2008 Atlantis Music Conference and Festival by presenting a Producer/Songwriter panel Thursday, September 18 at Atlanta's Center Stage in Midtown (1374 West Peachtree St) from 4 until 5:30 p.m. A diverse cross-section of the elite producers, managers and songwriters who happen to share a passion for working with up-and-comers will discuss current issues facing independent artists, including creating memorable music on a shoe-string budget; taking advantage of digital recording technology indies can use at home; and the dynamics behind an electrifying producer/artist relationship.
Established hit-makers including Cri$tyle (Mariah Carey, Brandy, Teyana Taylor), DJ Montay (DJ Unk, Flo Rida, Three 6 Mafia), DJ Toomp (Mariah Carey, Kanye West, TI), Eric Hudson (John Legend, Kanye West, Omarion), Jasper Cameron (Ciara, Lloyd, Nelly) and Jeffrey Steele (Rascal Flatts, Tim McGraw, Montgomery/Gentry), with Zack Odom and Kenneth Mount (Cartel, Mayday Parade) will provide invaluable insight during an intimate discussion.
About the Atlantis Music Conference & Festival Now in its 10th year, Atlantis is a three-day and four-night musical extravaganza held September 17-20 in Atlanta, Georgia. Atlantis' goals are to provide independent artists unparalleled access to educational and networking opportunities including professional demo critiques, insightful panels featuring industry insiders and exposure to a&r executives and music fans through nightly showcases. The mercurial state of the contemporary music industry has opened new avenues for independent artist development and success, all thoroughly explored and explained during the unique Atlantis Music Conference & Festival.
For more information on the Atlantis Music Conference & Festival, please visit www.atlantismusic.com.