BMI Presents Music as the Unifying Force Panel at the 15th Annual Woodstock Film Festival
Film industry veterans, independent filmmakers, artists and other creative spirits will gather for the 15th Annual Woodstock Film Festival on October 15–19, 2014, in Woodstock, New York. The event includes screenings of independent films, educational panels, concerts and other special events.
As part of the festival screenings, the documentary, A Snake Gives Birth to a Snake, will premiere on October 17 at the Woodstock Playhouse. It follows a diverse group of South African actors touring the war-torn regions of Northern Ireland, Rwanda and the former Yugoslavia to share their country's experiment with reconciliation.
Helmed by filmmaker, Michael Lessac, A Snake Gives Birth to a Snake features the original music of BMI composer and GRAMMY winner Hugh Masekela, a world-renowned, multitalented musician, composer and singer. Born in Witbank, South Africa, in 1939, he first encountered a horn at 14 and has said he is "still blowing strong at 75." His political beliefs and activities led to most of his life being spent in exile, which didn't deter his prolific nature: during that time, he produced more than 40 albums and collaborated with Harry Belafonte, Dizzy Gillespie, Miles Davis and Paul Simon.
Prior to the screening, Lessac and Masekela will join BMI's VP Film/TV Relations, Doreen Ringer-Ross, for an educational panel at 3 p.m. entitled, Music as the Unifying Force, presented by BMI on October 17 at the Kleinert James Art Center in Woodstock. That same evening, BMI will also be hosting a private dinner in honor of the festival's 15th anniversary as well as the 45th anniversary of the original Woodstock festival. During that dinner, BMI will present Michael Lang, the producer of the original festival, with a special citation for his contributions to the culture of rock music.
The Woodstock Film Festival is a nonprofit organization that presents an annual program and year-round schedule of film, music and art-related activities that promote artists, culture, inspired learning and diversity. Learn more about the festival and its schedule of events.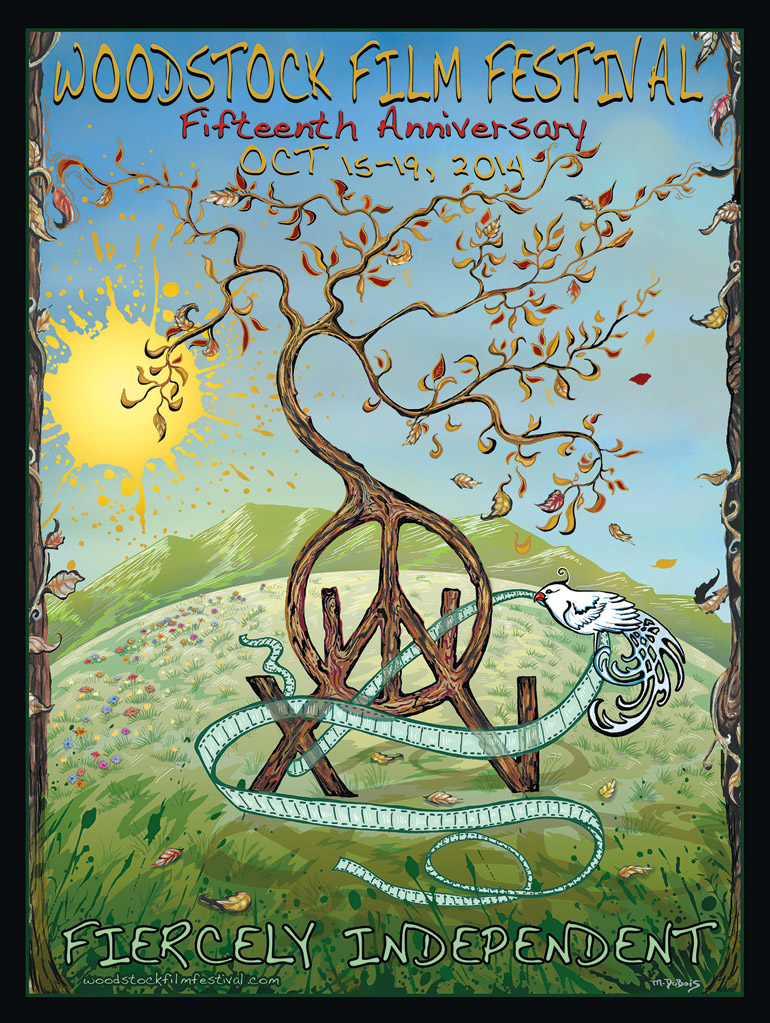 The 15th Woodstock Film Festival poster.