BMI Podcast 18 Features Ivory, Tally Hall, Ludo & The Nice Device
BMI continues to share tomorrow's music today with its groundbreaking "See It Hear First™" new artist podcast series – the first of its kind in the music industry. Available at bmi.com/podcast, edition #18 trolls through America's Midwest. BMI's search exposes the lush indie rock sounds of Appleton, Wisconsin's Ivory; Ann Arbor, Michigan's Tally Hall; St. Louis, Missouri's Ludo; and Detroit, Michigan's The Nice Device.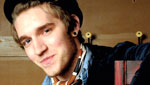 Ivory's piano-laden tracks excel in instigating dreamy gaits through dewy-eyed memories and yearnings. Recorded at Smart Studios in Madison, WI, the band's self-released EP introduced their bubbly piano pop to indie rock connoisseurs. Ivory's spruce arrangements embody mass appeal, capable of Generation Y adoration and baby-boomer appreciation. Kick back with a glass of red wine and Ivory's "Coast of Maine."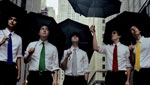 Tally Hall graciously side-step genre pigeon-holing. Vocalist/guitarist Joe explains: "If a certain idea requires a certain sound, then why limit ourselves?" The Boston Herald praises Tally Hall's mix of "vintage Beastie Boys with snarky new wave and Beatles-y psychedelia," while the Detroit Free Press calls the group's debut, Marvin's Marvelous Mechanical Museum, "pop patchwork at its best." A crew of serious composers, pianist/vocalist Andrew received the prestigious BMI/John Lennon Songwriting Scholarship as the band's "Good Day" was featured on The OC. Discover Tally Hall here with "Spring and a Storm."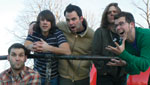 Missouri-based quintet Ludo issued their self-titled debut in 2003 and hit the road. Packed venues across the Midwest and Texas led to heavy rotation on FUSE, including three appearances on the network's Daily Download — a first for an independent band. Ludo's follow-up, Broken Bride, broke EP molds, emerging as a cohesive rock opera that follows two lovers through time and tribulation. The band signed with Island Records in 2006 and is currently in the studio recording their major label debut. Sample Ludo's brand of rock here with "Hum Along."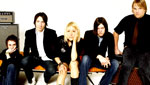 The Nice Device take pride in their insistent evolution — growing pains are prettily exposed instead of swept under the rug. Delicate lead vocalist Alicia sets the buoyant tone, backed by happy guitar chords and the occasional foxy jolt of electronica. Pitchforkmedia.com proclaimed that the quintet's Birth of a Lover EP "strikes a balance between charming sugar high and nuts 'n' bolts junkyard cacophony…a remarkably strong debut." Soak up The Nice Device here with "Innocent."
BMI's "See It Hear First" podcast has become an important tool for exposing new BMI songwriters and artists to key industry professionals and fans alike. Since its release in May 2005, millions of listeners from around the world have tuned in to discover new music from a broad range of genres and regions. Past 'cast artists including singer/songwriter Brendan James, rockers somedaynew, Latin hip-hop artist Cosculluela, Canadian crossover band Soul Kid #1 and country-pop combo the Zac Brown Band have all grabbed the industry's attention through the BMI podcast, with some landing major recording and publishing deals, and others on the verge of being signed.
In addition to hearing great music from an array of new talent, podcast listeners can also vote for their favorite artist to help them win a CD duplication package from Disc Makers, the leading CD manufacturer for the independent musician. Winners get 1,000 discs, a prize with a promotional value of more than $10,000.
Tune in to bmi.com/podcast to hear all 18 editions of the BMI podcast, the first in the music industry to be listed in Apple's podcast directory. The "See It Hear First" series is also available from iTunes at bmi.com/itunes, from Yahoo! at podcasts.yahoo.com, or though Pod2Mob.com.