BMI Partners with Community Foundation of Middle Tennessee to Create BMI Flood Relief Fund
BMI to match donations up to $50,000, contributes additional $50,000 to recovery efforts
BMI has announced the creation of a two-part campaign designed to help fuel rebuilding efforts after the historic flood that devastated Middle Tennessee last month. The initiative was unveiled by BMI President & CEO Del Bryant and BMI Vice President, Writer/Publisher Relations, Nashville Jody Williams during Tim McGraw and Faith Hill's all-star Nashville Rising: A Benefit Concert for Flood Recovery, held June 22 at Bridgestone Arena in Music City. BMI operates on a non-profit making basis, representing more than 400,000 songwriters, composers and music publishers, many of whom live and work in Middle Tennessee.
BMI's campaign is twofold. The company, along with its Nashville-based subsidiary Landmark Digital Services, has partnered with the Community Foundation of Middle Tennessee to create the BMI Flood Relief Fund, a donation-matching program within which BMI will match up to $50,000 of contributions from individuals and businesses. BMI has also donated an additional $50,000 to the Community Foundation to assist with the organization's immediate recovery work.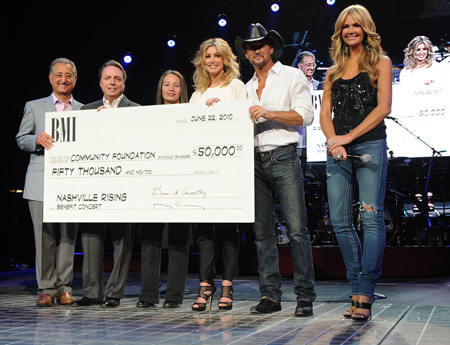 During the June 22 Nashville Rising benefit concert in Nashville, BMI presented a $50,000 donation to the Community Foundation of Middle Tennessee to assist with flood recovery work. Pictured at the presentation are (l-r) BMI President & CEO Del Bryant, BMI Vice President Jody Williams, Community Foundation President Ellen Lehman, Faith Hill, Tim McGraw and entertainment reporter Nancy O'Dell. Photo credit: Getty Images for Nashville Rising
"All of us at BMI realize what a privilege it is to live here and be part of this community," says Williams. "Everybody here knows somebody who was devastated by the flood. Nashville has friends all over the world, and the match program has been designed so that anyone can contribute, from anywhere."
Donations to the BMI Flood Relief Fund are being accepted through July 31, 2010. All contributions are fully tax-deductible and will be used to support the Community Foundation's flood-recovery efforts throughout Middle Tennessee.
"As a central hub for the entire music industry, BMI has the unique ability and responsibility to connect people," says Bryant. "The months directly following a disaster are crucial. Nashville is the lifeblood of so many of our songwriters, composers and music publishers, as well as our own employees. There is much left to be done, and BMI is committed to supporting the community every step of the way."
For more information on BMI's response to the flood in Middle Tennessee, please visit bmi.com/flood.
About the Community Foundation of Middle Tennessee
The Community Foundation of Middle Tennessee brings good people and good causes together to help ensure both the excellent stewardship of donor funds and the wise investment of grants in the 40 counties of Middle Tennessee that we serve. The Community Foundation puts the joy back in giving by making it comfortable, convenient and cost-effective to give, and by harnessing the flexibility available through The Foundation to create a giving vehicle best suited to a donor's goals.
www.cfmt.org