BMI Now Accepting Submissions for 13th Annual Unsigned Urban Showcase
BMI is currently accepting submissions for its 13th Annual Unsigned Urban Showcase, to be held in Atlanta; date to be announced. Aspiring artists from all urban genres, including r&b, rap, and hip-hop, are encouraged to apply for the opportunity to perform at this lauded, star-spotting annual showcase. Four finalists will be selected to compete in front of a panel of music industry heavyweights, including top executives, artists, producers, managers and attorneys. The winner will receive an array of prizes (the '09 prizes included studio time, a trip to the BMI Urban Awards, a photo shoot and much more). 
The deadline for submissions is Friday, March 19, 2010.

Interested performers must be BMI affiliates and should submit a bio, photo, two-song demo (CDs only, please), day and evening contact information, and a BMI account number to verify the submitter's affiliation. Submitted materials will not be returned and only those selected to perform will be contacted. Completed submissions should be sent to:
BMI
ATTN: Urban Showcase Submissions
3340 Peachtree Rd NE, Suite 570
Atlanta, GA 30326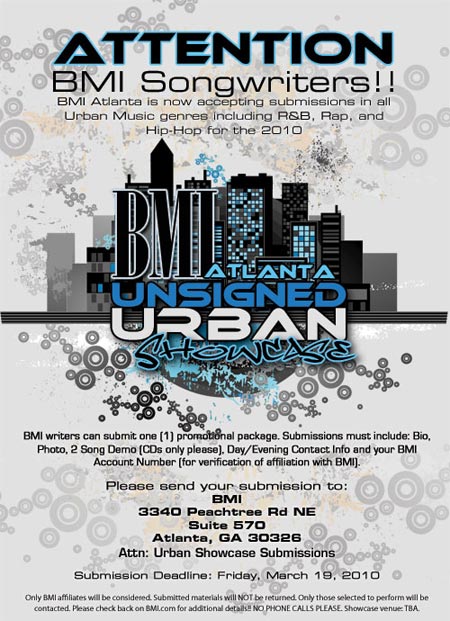 Last year's showcase, which attracted droves of Atlanta's influential music community, featured performances by showcase winner 718, hip-hop iconoclast NAS, prince of r&b Trey Songz, and multi-talented troubadour Novel. In addition, BMI presented Lil' Jon the Legends of ATL Award, which recognizes a community leader for his or her contributions to the Atlanta music scene.