BMI Mourns the Loss of David Bowie
Two days after the release of his last album, Blackstar, the legendary David Bowie, who gave the world, among so many iconic songs, "Changes," "Space Oddity," "Let's Dance" and "Fame," passed away at the age of 69. His music was an influence on too many rockers, punks, hip-hoppers, pop stars, jazz, funk and dance musicians to ever count, and his collaborations were just as impressive and diverse, with acts like Queen, Mick Jagger, John Lennon, Tina Turner, The Pat Metheny Group, Lou Reed, Iggy Pop, The Stooges and Mott the Hoople, among others. Bowie even collaborated with legendary crooner Bing Crosby in their unlikely but unforgettable duet "Peace on Earth/Little Drummer Boy" in 1977, and the song still marks the holiday season each year on radio. Renowned classical composer Philip Glass also based two symphonies on Bowies' albums, Low and Heroes. His legacy also lives on in film, including alongside the iconic Marlene Dietrich in her last movie, Just a Gigolo, and of course his groundbreaking role in The Man Who Fell to Earth in 1976. He also transfixed audiences in Merry Christmas Mr. Lawrence, Labyrinth and as Pontius Pilate in Martin Scorsese's The Last Temptation of Christ in 1988. Broadway also came calling in the '80s, to which Bowie answered with his unforgettably haunting performance as the lead in The Elephant Man.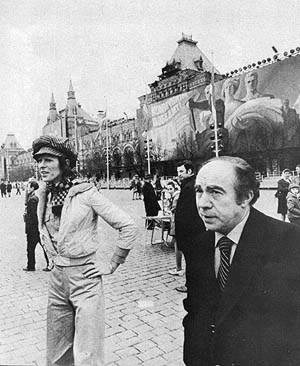 Pictured: David Bowie with journalist, lyricist and BMI's London office consultant, Robert Musel, in Moscow's Red Square when the two traveled together on the Trans-Siberian Express from Vladivostok to Moscow.
A visionary throughout his 40-plus year career, from his artistic breakthrough with The Rise and Fall of Ziggy Stardust and the Spiders From Mars in 1972, to his Lifetime Achievement GRAMMY in 2006, to his highest charting album, The Next Day, in 2013, David Bowie was the incarnation of media and musical prowess, always on the forefront of art, spurring us on to explore with him the angst, questions, and possibilities that come with everyday life. Now, after 25 entries on the Billboard Hot 100, 39 albums on the Billboard 200 chart (including seven top 10's) and countless other accolades, Bowie's music and persona is an indelible part of music history. He will be forever missed by his longtime admirers at BMI.