BMI Jazz Composers Workshop Marks 20th Anniversary with Showcase Concert
The BMI Jazz Composers Workshop, a noted creative forum for musical exploration and development, highlighted the best new jazz compositions created during the last year at its 20th Anniversary Summer Showcase Concert on June 25 at Merkin Concert Hall. The concert featured the BMI/New York Jazz Orchestra, a 17-piece modern repertory ensemble made up of leading New York musicians.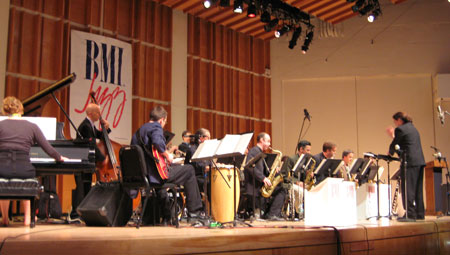 The BMI/New York Jazz Orchestra
The evening also featured a competition to choose the winner of the BMI Foundation's ninth annual Charlie Parker Jazz Composition Prize, given to the writer of the best new work composed in the BMI Jazz Composers Workshop. Composer Jeff Fairbanks won the competition for his song "Bi Bim Bop," and received a cash award along with a $3,000 commission to compose a new piece for the following year's concert. Last year's Manny Albam Commission winner, Jose Bevia, premiered his commissioned work, "Abstractions." The Commission is named in memory of the Workshop's co-founder and longtime musical director.
Pictured (l-r): BMI Vice President, Corporate Communications and Marketing, Robbin Ahrold; saxophonist Jane Ira Bloom; composer Jim McNeely; Manny Albam Commission winner Jeff Fairbanks; and jazz authority Dan Morgenstern.
This year's judges include noted jazz authority Dan Morgenstern; soprano saxophonist/composer and 2007 Guggenheim Fellowship recipient Jane Ira Bloom; and Latin jazz trombonist/composer Luis Bonilla, member of the Vanguard Jazz Orchestra and sideman to musical greats such as Dizzy Gillespie.
The BMI Jazz Composers Workshop is led by internationally renowned composers Jim McNeely and offers a unique collaborative environment for professional jazz musicians with an emphasis on composition for the large jazz (big band) ensemble. The Workshop – a well-known forum for creative excellence – provides an environment where composers are free to explore new avenues in the creative process, while at the same time honing their skills. McNeely has performed with and written for Chet Baker, Stan Getz, Joe Henderson and the Carnegie Hall Jazz Band, among others; is a six-time Grammy Award nominee; and The New York Times has called his writing "exhilarating".