BMI Creates Trifecta Experience at Great Escape Festival
The Great Escape, Europe's leading new-music festival, held May 15-17 in Brighton, England, provided a platform for BMI to host three unique events. BMI Senior Executive, Writer/Publisher Relations Nick Robinson and Emmanuel Le Grand (Editor, Impact magazine) co-moderated a music-publishing panel at the Queens Hotel, in Brighton on May 15. Topics included the difference between U.S. and U.K. publishers, how to set up your own publishing company, publishing in a worldwide context, and the importance of 'syncing' in an artists career.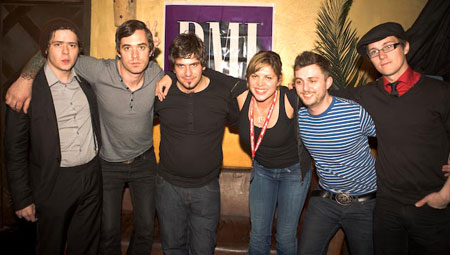 Skeletons members (l-r): Liam Creamer (singer), Ceejay Sheppherd (guitar), Mathew Westley (bass), BMI's Tabitha Capaldi, Matt Jones (keyboards), Ryan Jenkinson (drummer)
The panel comprised Hiten Bharadi, founder of new publishing, production and artist development company Phrased Differently; singer/songwriter Matt Hales of Aqualung; Justin Kalifowitz of Downtown Publishing, an independent music publisher; Sam Winwood, VP Creative of Kobalt Publishing; and Andy Hind, Senior Licensing Manager of MCPS.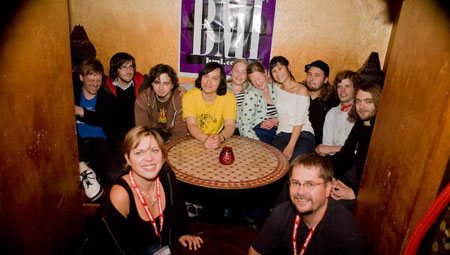 Casiokids members (l-r): Kjetil AabÖ (bass), Matias Monsen (keyboards), Omar Johnsen (guitar/percussion), Helena Odegassd(visuals), Ingrid Ellestad (visuals), Jean Christine Cena (visuals), Fredrik Vogsborg (drummer), Ketil Kinden (vocals/keyboards), and Einar Olsson (percussion/keyboards)
Forming part of the "Alternative Escape," the festival's fringe circuit, BMI Sessions Rock Brighton was held at PoNana's on May 15. The diverse line-up consisted of melodic rock band Cine; retro guitar-pop mavens The Ashbies; explosive performers the Skeletons; and Norwegian-bred Casiokids.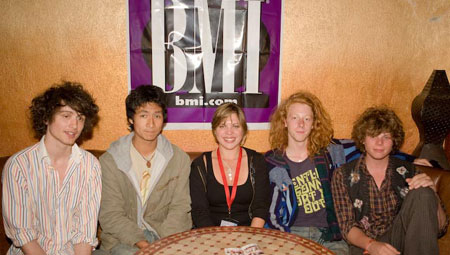 The Ashbies members (l-r): Will Taylor (vocals/guitar), Jon Supran (drummer), BMI's Tabitha Capaldi, Brendon Ashbie (bass),and Charlie Fitzgerald (vocals/guitar)
BMI's final offering at the festival was the Acoustic Afternoon Session, held May 16 at Above Audio, which featured a selection of highly sought-after acts. Sassy Londoner Rosie Oddie performed a special unplugged set with one member of her backing band, The Odd Squad; James McMorrow played a mesmerizing set coupled with his soulful-yet-raw vocals; and Tubelord showed their softer side with acoustic versions of their riotous tracks. Acoustic alchemist Yoav wowed the crowd with looping live rhythms and percussive beats, while headliner Parisian chanteuse Soko, one of the most exciting acts to break this year, brought together her charming and witty narratives with hushed acoustic strumming.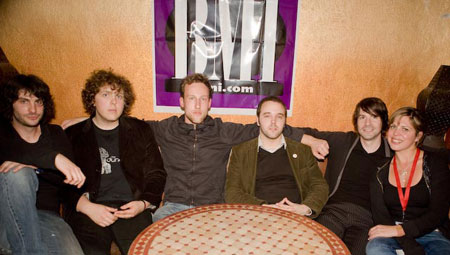 Ciné members (l-r): James McMaster (guitar), Alex Walker (drummer), Paul Aiden (vocals/guitar), Anthony Bruce , David Hempsted (bass), and BMI's Tabitha Capaldi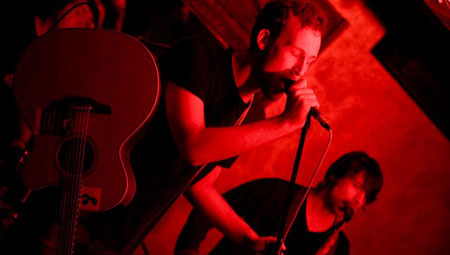 Ciné (l-r): Paul Aiden, David Hempsted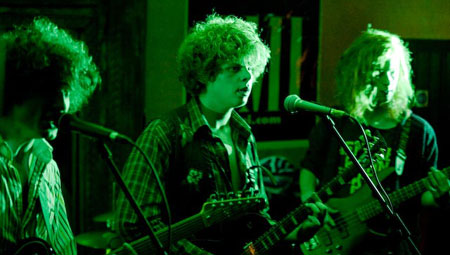 The Ashbies (l-r): Will Taylor, Charlie Fitzgerald, and Brendon Ashbie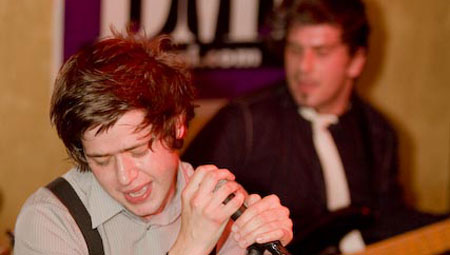 Skeletons (l-r)Liam Creamer, and Mathew Westley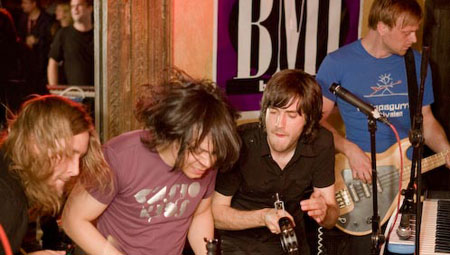 Casiokids (l-r): Einar Olsson, Omar Johnsen, Matia Monsen, and Kjetil AabÖ
Photos: James Sellar