BMI Confirms Strong Lineup for Folk Alliance 2012
Showcase set for Feb. 24 in Memphis
BMI will present a blue ribbon lineup of singer/songwriters at Folk Alliance 2012. Sarah Siskind, Jon Troast, Carolina Story, Eric Brace and Peter Cooper, Jason White, Ana Egge, Anthony DaCosta, Malcolm Holcombe and Chris Scruggs share the bill, which will offer live proof of the unparalleled depth and diversity of BMI's roots repertoire.
Set for Friday, February 24 in the St. Louis Room at the Memphis Marriott Downtown (250 North Main Street, Memphis, TN 38103), the show starts at 5:45 p.m. and is open to Folk Alliance badge holders.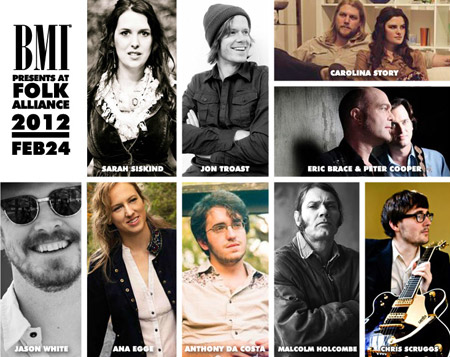 Since 1989, Folk Alliance® has served as the headquarters for folk music and dance. With over 2,800 members worldwide and an annual conference that is one of the five largest music conferences in North America, Folk Alliance continues to grow and mature while providing a unique range of member services to our community.
For details about the 2012 conference and more, visit folkalliance.org.
Learn about the BMI performers: