BMI Closes Out '08 Acoustic Lounge Series
LOS ANGELES, December 16, 2008 - BMI held its last edition of the 2008 Acoustic Lounge showcase series December 1, which featured stellar performances by Arden Kaywin, Duane Neillson, West 8 Five, and Arielle Worona. The Acoustic Lounge showcase is held on the first Monday of each month at Genghis Cohen and is always free and open to the public.
The Acoustic Lounge is one of many opportunities BMI offers to artists to showcase their talent in front of their peers and a supportive audience. The atmosphere is relaxed and fun, offering a great opportunity to network with other aspiring and working singer/songwriters. For established writers, it provides a chance to monitor new musical trends and be involved in the grass-roots/DIY musical movement.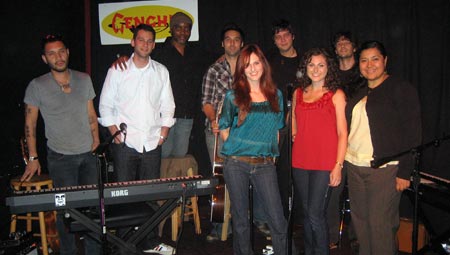 Shown are (back row, l-r): Accompanist Martin Estrada; BMI's Casey Robison; Duane Neillson; Adam Piotrowski and Felipe Cano of West 8 Five; and accompanist Sasha Smith. Front row (l-r): Arden Kaywin, Arielle Worona and BMI's Marissa Lopez.